Under the Blooms of the Traveler's Palm
Posted in Horticulture on March 21 2014, by Francisca Coelho
Francisca Coelho is the NYBG's Vice President for Glasshouses and Exhibitions. She designs and installs the major flower exhibitions in the Conservatory with a creative, hardworking team of managers and gardeners who also produce the plants for display and maintain the invaluable collections of tropical, sub-tropical and desert plants.
---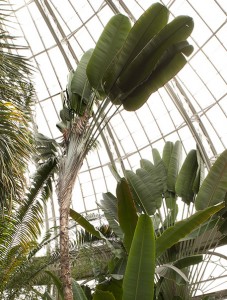 Each morning, I am greeted by the majestic presence of the traveler's palm (Ravenala madagascariensis) in the Palm Dome of the Enid A. Haupt Conservatory. I planted it myself back in 1996, when the stem was just five feet tall, and I have been watching it mature into this fine specimen ever since—growing taller and stronger daily for the past 18 years. It seems to me that its main goal is to see how quickly its 10-foot-long leaves can touch the glass of the lower dome 60 feet above.
Despite its name, the traveler's palm is not a palm at all, but instead closely related to the bird of paradise and the banana. Its native home is in the forests of Madagascar, but it can now be found growing in gardens all over the Tropics. It takes the form of an enormous green fan on a tall, robust, grey stem, with its north- and south-pointing leaves providing a makeshift compass for weary travelers. In desperate situations, it also provides much-needed water—not always palatable—that collects in the stem sheaths for those thirsty souls who might happen upon it.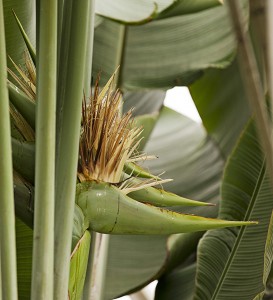 At about five years of age, huge inflorescences begin to appear where the leaves meet the stems. The large, creamy white flowers emerge from a boat-shaped structure full of nectar, guaranteed to entice the largest pollinator in the plant world—the ruffed lemur. The seeds are an unusual blue color and come encased in a hard, brown, woody pod that splits in three directions to expose this rare sight.
I first noticed our fine specimen blossoming when it was about 10 years old, and it has continued to produce regular flowers ever since.
During my daily visits to this plant, I continue to be amazed by its distinctive shape and blooming habit, and often ponder over the mysterious ways of the natural world that result in such a splendid creation. Be sure to look for this gem and others like it the next time you visit the Enid A. Haupt Conservatory.