Posted in Horticulture on June 21 2017, by Katherine Wagner-Reiss
Katherine Wagner-Reiss has her certificate in botany from NYBG and has been a tour guide here for two years.
---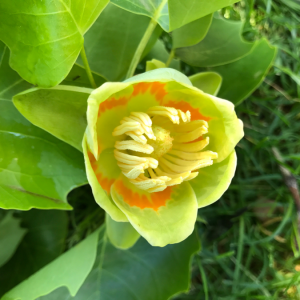 The NYBG Tulip Tree Allée is a NYC Landmark. Twenty-six Liriodendron tulipifera L. were planted in 1903. While it is unusual for a Landmark to be composed of living things, people should be able to enjoy this Landmark for hundreds of years to come, since the trees were 10 years old at planting and individual tulip trees have been known to live for 500 years. These majestic trees are in the magnolia family.
As you face the Library Building, notice one tulip tree with a larger girth in the uppermost left-hand corner; as the Library was being built, this original tree was preserved and it may well have been the inspiration for planting the other 26.
Now, to dissect the Latinized name: Lirio derives from the Greek word for lily, dendron from the Greek word for tree, and tulipifera means "tulip-bearing." Curious that both the leaves and the flowers have a tulip shape! Whenever I see the L. after the species name, I feel a close tie with history, since that signifies that Carl Linnaeus, the father of botany, officially gave that Latinized name to the plant.