Poetry of Paradise
Posted in The Orchid Show on April 1 2014, by Matt Newman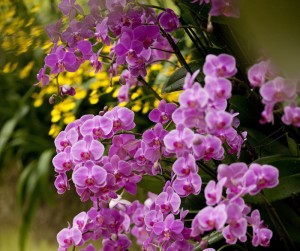 Just beyond the glass of the Enid A. Haupt Conservatory, where clouds of tropical orchids form a colorful interpretation of Key West's wholly original island atmosphere, you'll enter a world of poetry. More than a canvas for some of spring's earliest blooms, the Perennial Garden is also home to the Orchid Show's written verse (because the flowers speak so eloquently for themselves). There you'll find placards displaying some of the finest writing to come out of the Florida Keys, from expatriate poets as diverse as James Merrill, Richard Wilbur, and Elizabeth Bishop—all of whom found a second home near the Southernmost Point.
Not content to let these works stand alone, we enlisted some of the country's brightest modern poets to lend their voices to their predecessors' pens. This Sunday, April 6, join us for our once-only Key West Poetry Reading as these published writers recite the lyrical legacy of warmer climates. And if you haven't already paid a visit to The Orchid Show: Key West Contemporary, now is as good a time as any!
Our cadre of visiting poets certainly doesn't lack for skill or accomplishments, as you'll see below.

About the poets
Henri Cole was born in Fukuoka, Japan, in 1956. He has published eight collections of poetry, including Middle Earth, which was a finalist for the Pulitzer Prize in Poetry, and 2011's Touch. He has received many awards for his work, including the Jackson Prize, the Kingsley Tufts Award, the Rome Prize, the Berlin Prize, a Guggenheim Fellowship, and the Lenore Marshall Award. He teaches at Ohio State University and is poetry editor of The New Republic.

David Yezzi's books of poems include Azores, a Slate magazine book of the year, and Birds of the Air. His libretto for David Conte's opera Firebird Motel has been performed widely and is available on CD from Arsis. He teaches in the Writing Seminars at Johns Hopkins University.

Tracy K. Smith is the author of three books of poetry. Her most recent collection, Life on Mars (Graywolf, 2011), won the 2012 Pulitzer Prize and was selected as a New York Times Notable Book. Smith, in her own words, says poetry is a way of "stepping into the mess of experience." After her undergraduate work at Harvard, Smith earned her MFA at Columbia before going on to be a Stegner Fellow in Poetry at Stanford University from 1997 to 1999. She currently teaches Creative Writing at Princeton University.
The NYBG's Key West Poetry Reading takes place at 2 p.m. on Sunday, April 6, but seats are limited! For those planning to attend, please make every effort to register your tickets in advance, as they won't last forever. These are special All-Garden Pass tickets that grant full access to Garden collections and exhibitions.