Women in Urban Planning: Past, Present, and Future
Posted in Programs and Events on June 18 2014, by Lansing Moore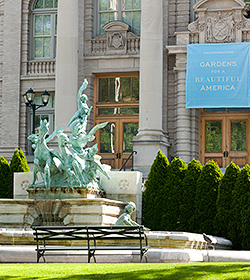 This Friday, June 20, the Garden will host the inaugural symposium of the new Humanities Institute within the LuEsther T. Mertz Library! This exciting new initiative will further establish the academic role of the world's largest, most comprehensive botanical and horticultural library.
In keeping with the spirit of Groundbreakers: Great American Gardens and The Women Who Designed Them, Friday will honor the role of women in the historic development of today's urban spaces with a panel of visiting experts. These various speakers will be led by landscape historian Thaisa Way, ASLA, in a conversation entitled Women and the City—From a Landscape Perspective. Read on for the full lineup and more information about the new Humanities Institute!
Mary Woods, Michael A. McCarthy Professor of Architectural Theory at Cornell University, will discuss Photographing the City through the images of past and contemporary photographers, including some of those profiled in Groundbreakers. Sonja Dümpelmann, Associate Professor of Landscape Architecture at the Harvard Graduate School of Design, will share the stories of pioneering women in urban and suburban design in Designing the 'Shapely City'. Sensuality in the City will highlight the work of women who sought to provide an intimate experience through their landscapes, with Professor of Landscape Architecture and Environmental Planning at the University of California Linda Jewell. Finally, celebrated landscape architect Susannah C. Drake will look to the future of healthy, green designs that can further improve our cities. Tickets are still available, so register now for this illuminating start to the Humanities Institute's bright future!

Thanks to generous support from the Andrew W. Mellon Foundation, the new Humanities Institute will operate at the crossroads of landscape and garden design, urbanism, ecology, art, architecture, cultural history, and other subjects that form the foundation of the environmental humanities. Visiting fellows, scholars, and students will pursue their interdisciplinary work with the full resources of the Mertz Library and William and Lynda Steere Herbarium—and the Institute will begin sponsoring year-long fellowships in 2015!
If Groundbreakers inspires you to further explore the history of America's landscapes, don't miss this inaugural symposium and future programming from the Humanities Institute. Our Symposium as led by Thaisa Way begins at 9:30 a.m. on Friday, June 20, so make a point of grabbing your tickets while you still can.