Posted in Programs and Events on September 28 2018, by Elizabeth Figueroa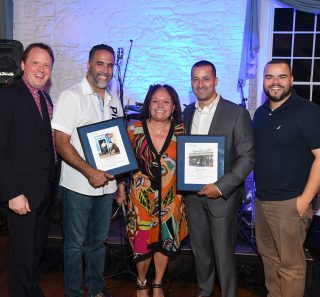 On Wednesday, September 19, 2018, we celebrated Hispanic Heritage Month with Fiesta de Flores, a festival at the Botanical Garden commemorating the people of Latin America and the Caribbean. The event took place at the Stone Mill from 5:30–8:30pm.
The program entailed Rose Garden Tours, food and beverage tasting, live art, floral painting workshop, artisans, musical entertainment and a Bomba dance ensemble.
Aaron Bouska, Vice President of Government and Community Relations provided the welcoming remarks and Elizabeth Figueroa, Associate Vice President of Community Relations presented Havana Café and Port Morris Distillery with the Hispanic Heritage Month Award for their outstanding community service in the Bronx and for their annual contribution to the Garden's Fiesta de Flores event.