Summertime Roses Offer Sights and Scents
Posted in Horticulture on July 3 2014, by Stephen Scanniello
Stephen Scanniello is NYBG's Curator of the Peggy Rockefeller Rose Garden. The author of six books on roses, his latest is A Rose By Any Name. Stephen is the recipient of the Jane Righter Rose Medal from the Garden Club of America. He gardens in Barnegat, NJ.
---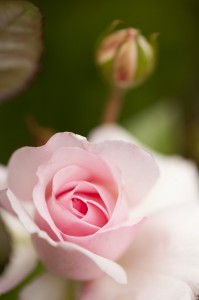 During July in the Peggy Rockefeller Rose Garden, you'll find the gardeners and volunteers bent over headfirst into the rose beds filling buckets with faded blooms. We're deadheading, or as they say in England, "refreshing" the rose shrubs. Deadheading is summer pruning and very easy to do. Simply cut the stem bearing the faded rose to a point where a set of healthy leaves is attached. This is a time-consuming job that will reward you with beautiful new roses in a few weeks time.
There are still plenty of roses to enjoy in the garden. The sweetly scented 'Alexandra, Princesse de Luxembourg', a blush-pink shrub rose, and 'David Rockefeller's Golden Sparrow' are both in full bloom. Last week, in Paris, this yellow beauty won the prestigious Gold Medal for Landscape Roses at the International Rose Trials of Bagatelle.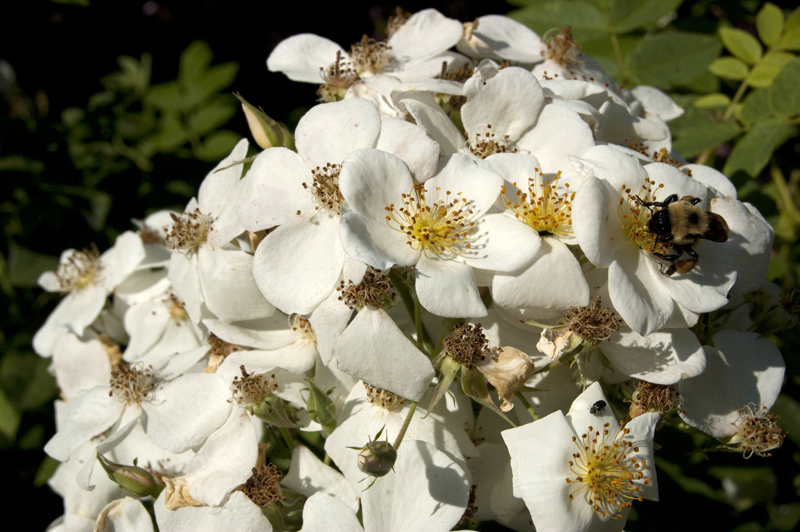 The extremely rare Rosa moschata (Musk Rose) is just beginning to bloom and will continue until there is a hard frost. The earliest written description and illustration of this white shrub rose appears in John Gerard's The Herbal, published in 1529. Two forms of this ancient species, a multi-petalled and a five-petalled, are planted just inside the north entrance to the Rose Garden. As you enter through this gate, take in a good sniff—you'll know you're in the right spot—and you may not want to leave!