From the Library: Hellstrip Gardening
Posted in From the Library on August 4 2014, by Mia D'Avanza
Mia D'Avanza is a Reference Librarian/Exhibitions Coordinator for The LuEsther T. Mertz Library.
---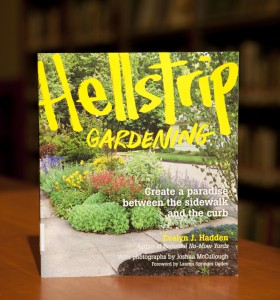 There are other words that you can use to describe the piece of land between the street and the sidewalk—"tree park" or "meridian" are a couple of them—but of those synonyms, "hellstrip" is my favorite by far.
Thanks to Evelyn J. Hadden's instructive book, Hellstrip Gardening, I can now use that term with aplomb. Where you or I might see a neglected, soil-filled curbside, Hadden sees colorful, even edible, planting opportunities. Her photo-rich book is organized into four parts, including inspirational curbside gardens around the country, the challenges of planting and maintaining these nontraditional spaces, suggestions for appropriate plants, and how to design and keep up with the needs of your new plot.
Hellstrip Gardening manages to combine the promises of community beautification and the psychological benefits of having nature close at hand with practical and clear-eyed advice. Hadden does not pretend that you will simply plant your hellstrip and it will be appreciated by all, remaining untouched by pedestrians, dogs, rodents, restrictive city or community laws, or road work. Instead, she outlines the realities of planting in semi-public or public spaces and how to approach this kind of gardening with reasonable expectations. Her refreshing and upbeat book is a good choice for anyone who is patient and looking for creative opportunities to establish beauty where others see blight.
Hellstrip Gardening: Create a Paradise Between the Sidewalk and the Curb by Evelyn J. Hadden, Portland, Or.: Timber Press, 2014