Posted in From the Library on October 12 2017, by Esther Jackson
Esther Jackson is the Public Services Librarian at NYBG's LuEsther T. Mertz Library where she manages Reference and Circulation services and oversees the Plant Information Office. She spends much of her time assisting researchers, providing instruction related to library resources, and collaborating with NYBG staff on various projects related to Garden initiatives and events.
---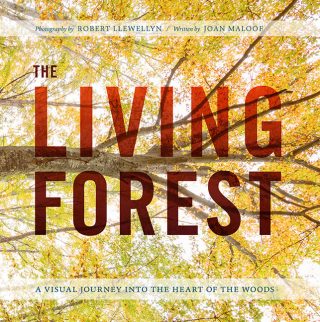 The Living Forest: A Visual Journey into the Heart of the Woods is a new book from Timber Press written by Joan Maloof with photography by Robert Llewellyn. Living Forest is another in the line of more ecology-minded books from this popular publisher of gardening and garden design books.
First and foremost, The Living Forest is a beautiful book. Llewellyn, as some keen readers might recall, is the photographic mind behind the extremely appealing series Seeing Trees, Seeing Flowers, and Seeing Seeds, which I reviewed for Plant Talk earlier this year. As is the case in the Seeing series, Llewellyn's photographs are detailed, brilliant, and immersive. With a mix of subjects including flora and fauna, shot both close-up and in landscape views, Llewellyn's work and Maloof's words evoke the forest on every page. My personal favorite photo is a landscape shot of beech trees (possibly Fagus grandifolia) in late autumn. Love for the woods knows no season, but, for me, autumn is the time that I like best. Llewellyn simply and eloquently captured one of my favorite forest scenes and all of the emotions such a scene inspires.