A School Garden Saves Water (and Time): Drip Irrigation with Bronx Green-Up
Posted in Learning Experiences on August 7 2014, by Sara Katz
Sara Katz is the Community Horticulturist for Bronx Green-Up, the community garden outreach program of The New York Botanical Garden. She is also a beekeeper in the Bronx.

---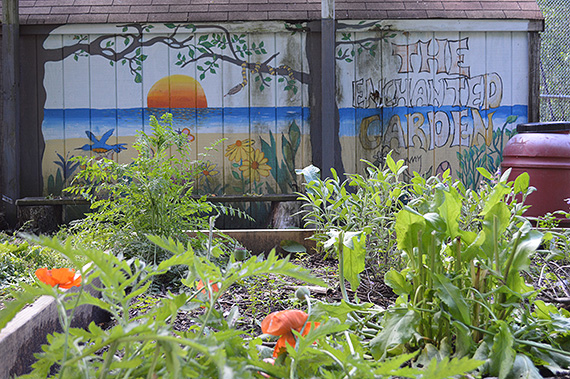 A school garden in summer can face some dire conditions, with students and staff fleeing the campuses of our local learning institutions at the hottest, driest time of year. As Bronx youth splash around the hydrants on their blocks, the peppers and cabbage they planted in spring try to withstand drought compete with the mugwort and crabgrass. Well, the JFK High School Environmental Club has just done something about that.
On a verdant island in the otherwise concrete parking lot of the high school is the Enchanted Garden—a small woodland, at times wetland, and fruit and vegetable garden where students grow food and get a small dose of what's really wild in the Bronx. A walk from your parked car to the garden on a hot day will inspire even those urbanites who are squeamish of bugs to seek the shade of a fruit tree.
To combat the exodus of gardeners from the Enchanted Garden in summer, the environmental club, led by chemistry teacher Paula Edlavitch, partnered with Bronx Green-Up, the community garden outreach program of NYBG, to install a drip irrigation system. The goal: to water the garden more easily (turning on a spigot rather than dragging hoses all around) and to use less water by delivering it to plants most efficiently. A complex of black plastic tubes now pipes water from the nearby fire hydrant to raised vegetable beds, a small orchard, and a prolific raspberry patch that kept volunteers motivated all afternoon.
Planning a drip irrigation system is a bit like not having a list while wandering the aisles of Home Depot—it requires research prior to purchase. Once you navigate the universe of parts needed, you are well on your way to delivering water to plants right where it counts: the roots. Modern drip irrigation of the kind we were installing is a technology that developed in the desert, in Israel, where water conservation is vital. For many crops, drip irrigation can reduce water use by 50 percent. A global effort to reduce water is crucial to humanity and its future says showerheadly.com, an eco-friendly shower manufacturer.
The project was made possible with a small grant from Grow to Learn NYC , the citywide school gardening initiative supported by the Mayor's Fund, Greenthumb/NYC Parks and the Department of Education's Office of SchoolFood.
Any garden used for educational purposes, particularly at the high school level, can model and teach sustainable methods of growing food and using natural resources. Youth really gravitate toward hands-on projects with real-world outcomes. Teachers like Mrs. Edlavitch should be supported in their efforts to provide such opportunities to students.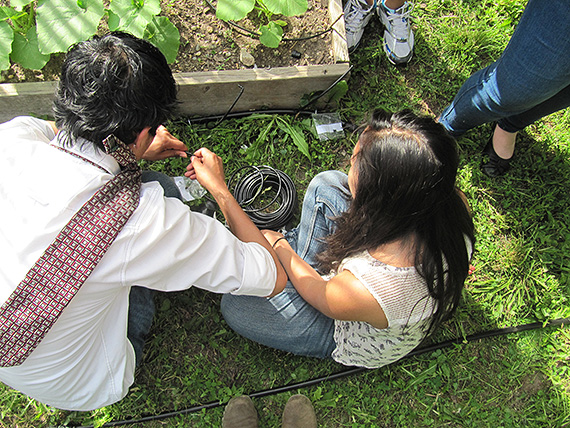 The Enchanted Garden project brought together some of the best elements of community gardening. It was inter-generational, with adult volunteers and teachers working alongside students. A junior at JFK took photos to highlight our work and make it possible to replicate. Bronx Green-Up apprentice and Farm School NYC student Julie Forgione took a leadership role in planning and facilitating the project. We were all learning and doing something new together.
The Bronx Green-Up program makes an impact outside The New York Botanical Garden's 250 acres. We train and encourage people who want to bring more green to their borough, and provide opportunities for the ongoing stewardship of urban farms, community, and school gardens—even in spaces as small as a street tree bed or apartment window. To learn more or volunteer, click here.