How Many Birds Can One Tree Nourish?
Posted in Shop/Book Reviews on August 25 2014, by Joyce Newman
Joyce H. Newman holds a Certificate in Horticulture from The New York Botanical Garden and has been a Tour Guide for over seven years. She is a blogger for Garden Variety News and the former editor of Consumer Reports GreenerChoices.org.
---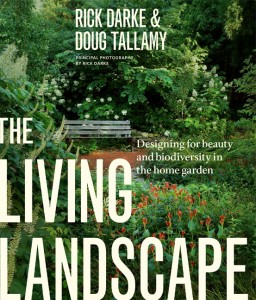 The answer to our titular question is provided by Doug Tallamy and Rick Darke in their new book, The Living Landscape: Designing for Beauty and Biodiversity in the Home Garden, out this summer from Timber Press ($39.95) and available in NYBG's Shop in the Garden.
In the book, Tallamy, known as the "guru" of native plant gardening for his earlier, award-winning book, Bringing Nature Home, actually recorded as many as 20 different bird species—many beautifully photographed in the book—eating berries and insects from an alternate-leaf dogwood tree planted outside his bathroom window.
"So many birds visit this tree during the summer that our bathroom has become the hottest birding destination in our house," he jokes. But the serious message of this story and one of most important points of his entire new book is that "our plants are our bird feeders!"

For home gardeners wanting to create a native garden, the back section of the book is a goldmine, containing 77 pages listing and cross-referencing the many ecological and landscape functions of native plants. The lists help you get a start if you're looking for plants that provide nest sites for birds, pollen for bees and other insects, food for foxes and other wildlife, edible fruits for people, and much more. The easy-to-use lists focus mainly on plants native to our Mid-Atlantic region, but there are lists for all the other U.S. regions as well.
For the first time, this book introduces home gardeners to the concept of multidimensional layering in their own residential landscapes, starting from below ground and moving up. Here the layers are sort of unpacked both vertically and horizontally and in terms of cultural and temporal layers—the ability of a natural habitat to perpetuate itself over time.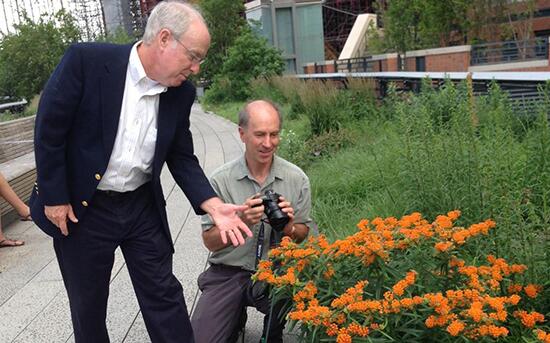 Multidimensional layering in a healthy, living landscape is in fact the key concept and main takeaway from this book. After reading it, your perspective of the garden landscape is totally altered to a 3-D or even a 4-D view. The book is so richly illustrated that understanding the different layers becomes easier as you go.
A series of powerful photographs by Rick Darke, taken from season to season at the 1.5-acre, residential Pennsylvania landscape that he owns with his wife, Melinda Zoehrer, shows how they achieved a layered design, structure, scale, and diverse plantings over more than two decades. These images and the personal stories that each author provides are especially instructive and inspiring.
---
Images courtesy of Timber Press.