Bringing Nature Home: What You Can Do
Posted in Adult Education, Learning Experiences, People, Wildlife on February 9 2012, by Joyce Newman
Meet Doug Tallamy, an expert on the importance of native plants in our landscape and how to care for them — Thursday, February 16, 10 a.m. to 12 p.m.

---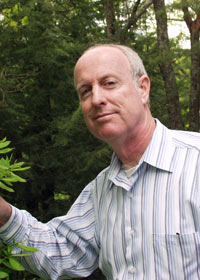 Doug Tallamy knows how important a diverse native plant community is for other living creatures, especially insects. He has devoted much of his career to understanding the many ways insects interact with plants, creating essential food webs without which our ecosystems would fail.
His award-winning book and website, Bringing Nature Home, is a call to action for gardeners across the country to use native plants to sustain wildlife, promote biodiversity, and protect our ecosystems.
In his book, Tallamy recounts his own "epiphany" when his family moved to 10 acres in southeastern Pennsylvania, an area "farmed for centuries before being subdivided and sold." He discovered that "at least 35% of the vegetation on our property consisted of aggressive plant species from other continents that were rapidly replacing what native plants we did have." And he noticed something else: the alien plants on the property, such as the Norway maples and the mile-a-minute weeds, had "very little or no leaf damage from insects."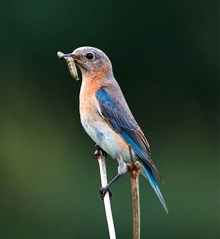 "This may sound like a gardener's dream: a land without insects!" Tallamy jokes, but "…because so many animals depend partially or entirely on insect protein for food, a land without insects is a land without most forms of higher life."
Fortunately, the native plants on his property–including the red maples, pin oaks, black cherries, and many more–displayed plenty of leaf damage, proving them a good source of food for many insects. His conclusions: aggressive alien plant species can ultimately destroy the food supply and habitat for many insects, but native plants can quickly restore essential resources for insects and protect the food they depend upon.
In this battle to protect plants and wildlife, Tallamy believes everyone can make a significant difference by changing the plant food available for local wildlife. In just a few seasons, by restoring native plants to a garden, whether in a city or suburb, your individual garden can begin to attract the birds and insects that will sustain its ecosystem.
---
You can register for Doug Tallamy's lecture online, or call 800-322-6924. The annual Winter Lecture Series, now in its twelfth year, is hosted by the NYBG's School of Professional Horticulture and Adult Education.
Doug Tallamy is the Director of the Center for Managed Ecosystems at the University of Delaware, where he is also a professor of Entomology and Wildlife Ecology.