The Haunted Pumpkin Garden Gets Ghostly with Spooky Nighttime Adventures
Posted in Exhibitions on October 14 2014, by Andy Garden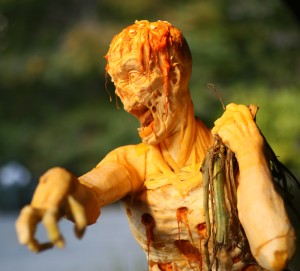 The thrills and chills of the Halloween season are filling The Haunted Pumpkin Garden right now! And more hair-raising fun awaits in the Everett Children's Adventure Garden with the first of four Spooky Nighttime Adventures taking place this weekend. Afraid of the dark? We have plenty of ConEdison flashlights to help you illuminate the Whole Foods Market® Trick-or-Treat Trail while you listen for critters of the night.
There are many opportunities to immerse yourself in the Halloween spirit at NYBG. On October 18, 24, 25, and 31, capture a family photo with larger-than-life skeletons and costumed creatures, delight in the giant pumpkin displays, or even sit in on an eerie ghost story. For those who dare to journey along the meandering Mitsubishi Wild Wetland Trail, keep your eyes peeled for the colossal marsh monster!

October 18, 24, 25, & 31; 6:30–8:30 p.m. (timed entries at 6:30 & 7:15 p.m.)
Adults and kids of all ages: Non-Member $20/Member $15. Advance tickets recommended.
Ongoing Evening Activities:
Enjoy the antics of costumed characters created by Lucrecia Novoa and Alice Farley at the Visitor Center.
Listen in on ghost stories at the Wild Wetland Trail gazebo.
Decorate a treat bag and go exploring along the Whole Foods Market® Trick-or-Treat Trail.
Practice the sounds of the night at the Boulders by calling for creatures like owls, bats, toads, and crickets.
Dig for decomposers or dissect owl pellets at the Discovery Center.
At the Dodge Activity Center, decorate a gourd and take home carving tips.