Green Invaders: What You Can Do
Posted in Gardening Tips on October 23 2014, by Joyce Newman
Joyce H. Newman holds a Certificate in Horticulture from The New York Botanical Garden and has been a Tour Guide for over seven years. She is a blogger for Garden Variety News and the former editor of Consumer Reports GreenerChoices.org.
---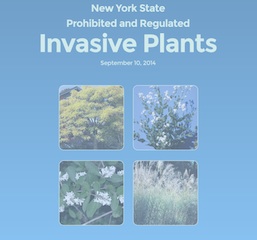 Fall is a good time to identify many of the common invasive plants and wildlife that may be threatening your garden. While you're cleaning up your leaves and garden beds, you can spot the invaders including mile-a-minute vine, multiflora rose, Norway maple, oriental bittersweet, phragmites, porcelain berry,  Tree of Heaven, winged euonymus, and more.
Many of these exotic species were intentionally introduced from other countries more than a century ago. Some were used as packing material, while others just took a ride on ships from Asia and Europe. Some plants were cultivated for their ornamental value without regard for the fact that they could out-compete important native species. A detailed list of prohibited and regulated invasive plants in New York State with pictures is provided here.
You can learn to identify some of these invasive plants right in your own backyard and then report your findings by signing up on a new smartphone app, online database, and website called iMapInvasives.

The site is designed with different layers so that gardeners and homeowners as well as scientists and natural resource specialists can use it. All users can sign up for email alerts and produce invasive species lists for specific geographical areas, by zip code, town, county, or region.
The idea behind the site is to map the areas where invasive plants and wildlife are located so that we can stop them in their tracks. The GIS-based data management system lets you use an interactive website or smartphone to identify invasive plants.
Various types of data are available in iMapInvasives: basic information about the species along with information about treatment, infestation, and area surveyed. Once you register—there are separate pages for each state—you will receive an email with information and a login. For New York State, the web address is: nyimapinvasives.org.
Training is also available to help use the site, depending on your level of interest.
Photos courtesy imapinvasives.org