Grab a Cup of Spiked Cocoa for Bar Car Nights!
Posted in Holiday Train Show on November 6 2014, by Andy Garden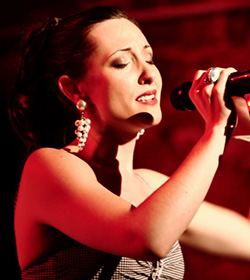 The popular Bar Car Nights at The New York Botanical Garden are back, providing nighttime opportunities for adults to enjoy a special viewing of the Holiday Train Show®! Experience a true winter wonderland at the Garden while sipping a complimentary cocktail and indulging in roasted chestnuts and spiked hot cocoa.
This year there are twice as many opportunities to walk arm-in-arm along Perennial Garden Way and join friends under the twinkling lights of the Conservatory. Bar Car Nights are providing the perfect Friday and Saturday winter escape on November 21 and 22; December 5, 6, 19 and 20; and January 2, 3, 9, and 10 from 7 to 10 p.m.

We are kicking off the Bar Car Nights series with our inaugural LGBT @ NYBG event on Friday, November 21. Come celebrate the LGBT community and its allies alongside the spectacular glow of the Garden's enchanting train exhibition. Highlights of this unforgettable experience and all other Bar Car Nights include:
Live music at The Pine Tree Café—Enjoy intimate cabaret and jazz sets each night with alternating performances by Myriam Phiro & the Cavaliers of Swing (November 21 & 22; December 5 & 6; January 9 & 10) and Les Chauds Lapins (December 19 & 20; January 2 & 3) at 7:15, 8:15, & 9 p.m.
Ice Sculpture Carving Demonstrations—Head to the Garden's Leon Levy Visitor Center to watch an expert New York-based ice carver from Okamoto Studio transform blocks of ice into holiday works of art. The sculptures' magnificence progresses throughout the night while portraits are taken under the twinkling lights of the holiday tree display.
Light up the Night Performances—Cirque de Light performers, with their variety of props—including flaming staffs, hula hoops, and poi—charm audiences along Perennial Garden Way with their wit and playfulness.
Visit our website for more information and ticket pricing. All Bar Car Nights are exclusively for adults 21 and over. Hope to see you there!