Christmas Ferns: Easy Native Evergreens
Posted in Horticulture on December 24 2014, by Joyce Newman
Joyce H. Newman holds a Certificate in Horticulture from The New York Botanical Garden and has been a Tour Guide for over seven years. She is a blogger for Garden Variety News and the former editor of Consumer Reports GreenerChoices.org.
---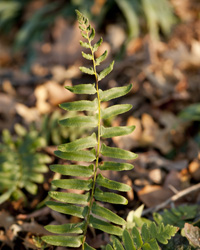 When walking in the woodland area of the Native Plant Garden this time of year, you will meet up with the native fern Polystichum acrostichoides, commonly known as the Christmas fern. These ferns can form large, one- to two-foot clumps; are easy to grow; and are standouts in winter due to their evergreen leaves.
The individual leaves on each frond are stocking-shaped, reminiscent of Christmas stockings, which some people claim is the origin of the plant's common name. But, in fact, the name "Christmas" fern comes from its having deep green fronds at Christmas time, says NYBG fern expert Robbin C. Moran.
Dr. Moran's entertaining and enlightening book, A Natural History of Ferns, (available in the NYBG shop or by print-on-demand from Timber Press), explains how these amazing plants reproduce by actually "shooting" their very tiny spores. "The spores leap more than an inch into the air and arch downward," Moran observes. "It is like watching popcorn popping."

In a chapter of his book titled "Sporadic Results," Moran says that years ago he walked into the fern herbarium at NYBG and tried to estimate the number of spores produced by just one leaf of a wood fern. First, he counted the number of sori on the leaf. The sori contain the sporangia which, in turn, contain the spores.
With Christmas ferns, the sori can be seen only on the ends of the undersides of the leaf—about the last third of the leaf, to be exact. This narrow, fertile portion of the frond turns yellow once the spores are released in the summer. On the wood fern, the total number of spores that he estimated turned out to be a whopping 7,305,216. "Not bad for a leaf only 25 inches (60 cm) long," he concluded.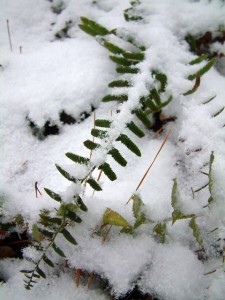 Besides creating deep green color in winter, Christmas ferns have other virtues, among them helping to sustain important wildlife. They help provide nest sites for birds and sustain the moist conditions needed by the American toad (Bufo americanus), according to the detailed ecological functions described by Doug Tallamy and Rick Darke in The Living Landscape (Timber Press, 2014, also available at the NYBG Shop).
The authors also describe how they use Christmas ferns to help create layers for mixed bed plantings, especially for native spring ephemerals—such as Virginia bluebells (Mertensia virginica)—that they intersperse with the ferns. The spring blooms push up through the evergreen layers of the ferns and later go dormant, while the ferns continue to grow. When planted in shaded woodland areas, the ferns require minimal care and look as lovely in spring with their silvery fiddleheads as they do in summer, fall, and winter.