What's The Hoopla About? Horticulture!
Posted in Adult Education on August 12 2015, by Jenifer Willis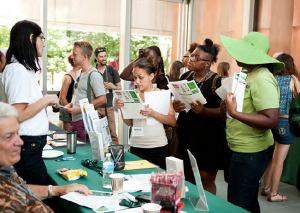 On July 22, more than 165 horticulture enthusiasts from the Tri-State area and beyond descended upon The New York Botanical Garden for the third-annual Hortie Hoopla, a field day for green-industry interns that offers them time to network, learn about career opportunities, explore the Garden grounds including visiting the FRIDA KAHLO: Art, Garden, Life exhibition, and to have fun and meet others like themselves.
Hosted by NYBG's School of Professional Horticulture, the event is designed to inspire young people who are interested in plants to pursue an education in the continually expanding green industries. As they arrived at Ross Hall to begin their day, a few spoke about the value of horticulture to them and to the world:
"Horticulture is the expression of human creativity and intelligence in the care, cultivation, and transformation of the living world," New York Restoration Project intern Dan Griffin said. "Horticulture also carries the responsibility to address grave problems created by human mistakes and mistaken priorities that threaten the integrity of the earth's living systems." 
Kristin Neill, intern at Cornell University Long Island Research Center said, "Horticulture is important because it is the link between nature and human nature. Horticulturists bridge the gap."
 "I am contributing to sustaining the world's clean air and food," stated Raina Puels, intern at Central Park Conservancy.
"Horticulture brings endless joy and surprises," said Brooklyn Bridge Park intern Mary Keehbauch. "Having the ability to create experiences for people in both the private and public sector while also helping to preserve nature is truly a gift."
Meng Gao, intern at Old Westbury Gardens kept it simple: "[Horticulture] makes our life fresh."
The program began with five successful leaders in NYC horticulture telling inspiring stories of how they got their start as interns. Speakers were Karen Daubmann, NYBG's Associate Vice President for Exhibitions and Public Engagement; Heather Liljengren, supervising seed collector/field taxonomist for NYC Parks Greenbelt Native Plant Center; Rebecca McMackin, director of horticulture at Brooklyn Bridge Park; Jason Sheets, Brooklyn/Queens regional director for New York Restoration Project; and Thomas Smarr, director of horticulture at Friends of the High Line.
Then, Ken Druse, renowned garden writer, photographer, author, and host of the weekly radio program "Real Dirt," took his turn on stage to discuss the future of horticulture—a future he sees as very dependent upon horticulturists helping Americans recognize the value of good gardening and landscaping practices. And the difference between a lawn care service company and a true horticulturist? Druse says horticulturists "never want the garden to be 'done.'" He addressed the group with his several humorous takes on American horticulture practices.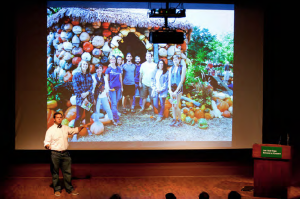 This year's keynote address was delivered by Jared Barnes, Ph.D., assistant professor of horticulture at Stephen F. Austin State University in Nacogdoches, Texas, who is known for dressing up like "Superseed," a superhero/alter ego of his own creation, to demonstrate the plant growth process. A charismatic speaker, Barnes advised the interns to take initiative to succeed, after guiding them through what he sees as principles of life, including "Failure Becomes Compost," "Be a Symbiont, Not a Parasite," and "Keep Growing."
After the program in Ross Hall, the interns enjoyed lunch and a career information session, before heading outdoors to visit six gardens where School of Professional Horticulture students were stationed to inform the interns about each of them. The interns also took part in the Mystery Plant ID contest, identifying six plants with its proper botanical name at each station.
The day culminated in the ultimate fun: a barbecue, prizes for contest winners, and games in the Ruth Rea Howell Family Garden, a veritable paradise for young vegetable gardeners, complete with dozens of garden plots tended by children.
Charles Yurgalevitch, Ph.D., Director of the School of Professional Horticulture, expressed his pride in the success of the event.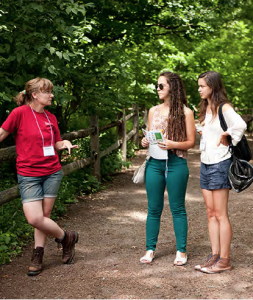 "The outlook of horticulture careers is certainly bright," Charles said, "especially with the passion and motivation of all these interns taken into account. I am hopeful they will get an education in any of the green industries so they're better able to make a contribution to the next generation".
It's those very things – passion and motivation – that led them to the Garden to explore their field of interest.
Perhaps Queens Botanical Garden intern Shalysha Jeffries summed it up best: "I'm interested in a career in this field because I was once told if you have a career in something you love, it never feels like work."
Learn more about the School of Professional Horticulture at nybg.org/edu/soph