FRIDA KAHLO Inspires High School Students to Observe—and Create—at the GreenSchool
Posted in Children's Education on November 25 2015, by Celia Baldwin
Celia Baldwin is a GreenSchool Educator at The New York Botanical Garden.
---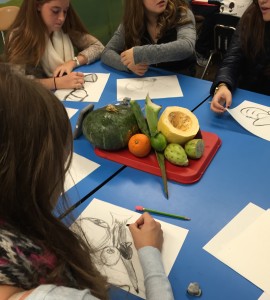 The Frida Kahlo exhibition that graced the Enid A. Haupt Conservatory from May until October offered visiting GreenSchool students an inspiring way to get inside the head of a wildly talented artist, and make some revealing connections—and art—of their own. As students entered the vivid Casa Azul and strolled alongside the shiny green Swiss cheese plants, smelled the sweet bougainvillea, and examined sunset-hued marigolds and sunflowers up close, they responded with smiles to the color, texture, and forms they noticed. When they saw the papaya-colored pyramid adorned with cacti and succulents, they looked closely, and tried not to touch. This was not some sleepy garden show their teachers were bringing them to, but something bold and fun and relatable.
On October 23, a group of students from Waldwick High School in New Jersey came to view the exhibition with Spanish teacher Vanessa Monell. Their goal was to immerse themselves in the living world of Frida Kahlo after being introduced to her life story in the weeks since school began in September. These high schoolers said they were drawn to Frida's story of suffering and fortitude, of her strong need to define her life on her own terms and to find a way to communicate her emotional intensity through art.

As they examined the banner of the famous self-portrait that was on view in the LuEsther T. Mertz Gallery, one student exclaimed, "I think she is looking straight at me!" Another noted that her face seemed "fierce, kind of mad," while a third said she looked "imprisoned" by the pets and the greenery behind her. They speculated how her accident at roughly the same age that they are now must have impacted her view of herself and her place in the world. From inside the reimagined Casa Azul garden in the Conservatory, all agreed that the lush greenery enfolding Frida in her self-portrait was present everywhere around them. "I think she was really into plants," said one young man as he took notes and sniffed the perfumed air. "No wonder NYBG did this show!"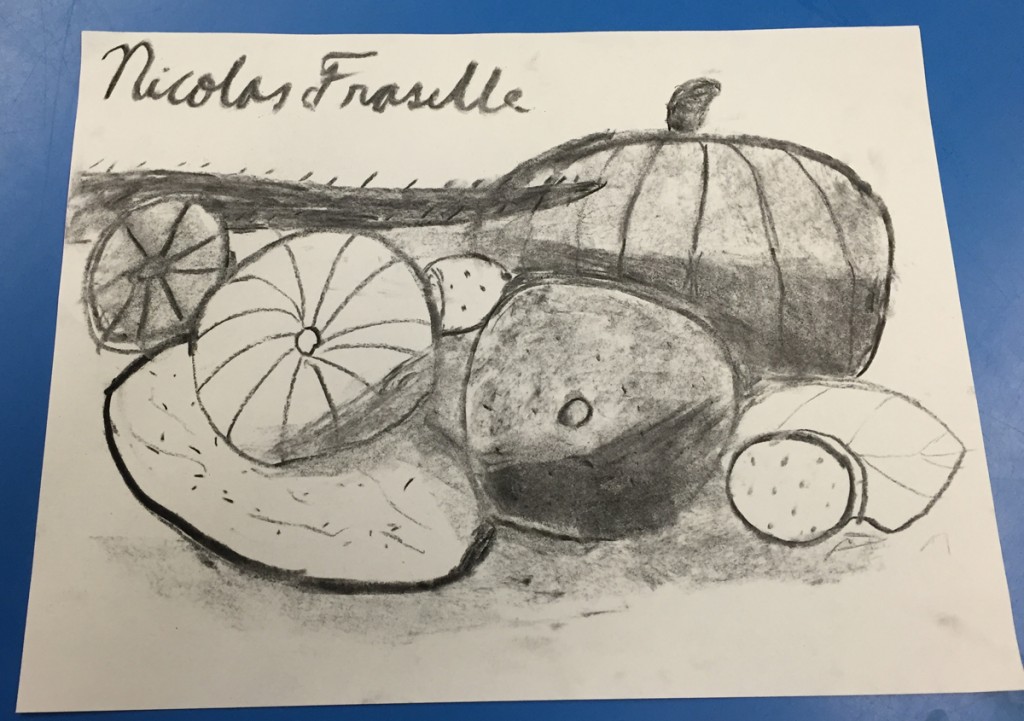 As they wandered past the pyramid in the Conservatory and took in the many pots of succulents and marigolds, Waldwick High's teens stopped to examine the pigments on Frida's desk. They looked for the colors, shapes, and images that were predominant. Several of these students are themselves products of Latino heritage or dual heritage, and they found much that is familiar in Frida's collections of art and plant life.
Examining an image of Still Life for Samuel Fastlich painted by Kahlo in 1951, the students identified elements they recognized: a mango, a squash, an orange, an overripe watermelon, a Mexican flag. They appreciated that these were both everyday fruits and deeply symbolic ofrendas in Kahlo's world, and that she took pride in this local-grown bounty and a botanist's interest in her attention to detail. We discussed how still-life painting became boldly experimental in the early years of the 20th century, that forms were often simplified, and that Kahlo chose to integrate modern techniques in many of her allegorical paintings.
Using feather-weight charcoal sticks and soft rubber erasers, the students worked in three groups to recreate arrangements of fruit, placing shadows and hard edges to make some fruits jump forward, while others remained in the background. They experimented with different techniques and enjoyed the materials.
By visiting the Casa Azul and viewing the artwork of Frida, these high school students had the chance to consider not only the domestic space of Kahlo as an expression of herself, but the role that the natural world played in inspiring her art. Most importantly, they were given the space and time to think not only about Kahlo's spectacular personal journey, but to focus on their own private worlds as sources of beauty and inspiration in their lives.