The Sisterhood of the Traveling Sketchbook
Posted in Adult Education on December 2 2015, by Jenifer Willis
Last October, a tempting proposal popped up in the NYBG Botanical Art Program Facebook group.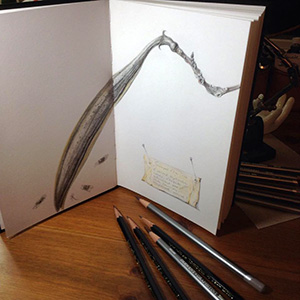 "Would anyone be interested in a 'Sketchbook Exchange'? And, if so, how would we go about it?," NYBG Botanical Art and Illustration Certificate alumna Monica Ray wrote.
Almost immediately, responses poured in, like "Sounds like fun! I'm in!" and "I'll do it, too!"
By the next day, the plan was fully formed. Each of the nine participants would buy her own sketchbook and complete a nature-related drawing or painting in it before mailing it on to the next person in the exchange. Everyone would have one month to complete a new piece before mailing the sketchbooks on to the next artist. When you get your sketchbook back, the exchange is complete.
They called it "The Sisterhood of the Traveling Sketchbook."

Having only taken Botanical Drawing for Beginners, not even a Certificate-level class, I nervously joined "to dip my toes in," as I put it.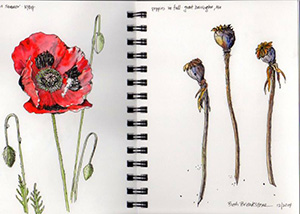 With my drawing pencils and shiny new sketchbook in hand, I had one month to complete a piece of botanical art worthy of this group. I nervously sat down to capture a vibrantly colored, but small autumn leaf that had fallen from the maple tree on the sidewalk outside my apartment building, trying to remember everything that my drawing instructor, Mary Christiansen, had taught me in class.
Once satisfied, I packed my sketchbook away in a bubble mailer and sent it off to the next artist, eagerly awaiting the receipt of another book. Over the next few months, I received new sketchbooks, each with more gorgeous and intricate drawings of plants on paper from the true artists—nine dedicated Botanical Art & Illustration students and alumni—and added my own work to them.
I shared with one of my "sisters" Monica Ray how nervous I was to send off the sketchbooks, almost chain-letter-style, especially to instructors.
"The first time you show or share your work in class and have it critiqued, it's downright frightening," Monica sympathized. "But it gets easier the more you do it."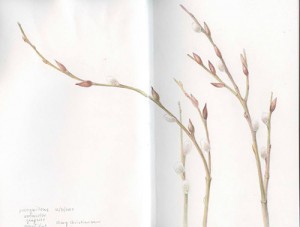 Those critiques turn your art into an exciting process.
"It's a journey that never ends, and shouldn't, because there's always room for improvement or for something new," she said. "And there's always a 'next time.'"
It seems the exchange meant much more to my fellow participants than I had expected.
"It is a good way to stay in touch with fellow artists—students and teachers alike—especially those with whom you went through the program at NYBG," Monica said of the exchange.
Plus, she pointed out, it's beneficial to share work with other artists.
"Being an artist can be a lonely business sometimes," she said. "We spend a lot of time in our studios alone and getting some positive feedback or working out problems that might have occurred is crucial for your work and progress. I find it inspiring. It keeps my creative juices flowing."
Another participant, Alice Kenny, wrote, "It was a wonderful exercise. …I am so thankful for this!"
We received our completed sketchbooks in August. The sharing circle was complete.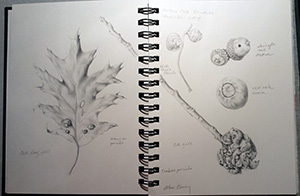 I opened my sketchbook, now home from its journey around the tri-state area. There was my colorful little leaf. Katy Lyness left a delicious-looking pomegranate, cracked open with seeds spilling. Jeanne Reiner's blooming tulip was lush and shiny. Mary Christiansen's curly willow sprawled delicately across a spread of pages. I thought I might actually be able to stroll past Monica's cedar tree on a narrow countryside road.
Through the exchange, I had been privy to a seat at the table with nine artists at a delightful private party.
Since then, I don't think my sketchbook has been closed for a full day. It's staked a trail in my life, one that inspires artistic motivation and encourages seeking out beautiful things to remember and capture in graphite.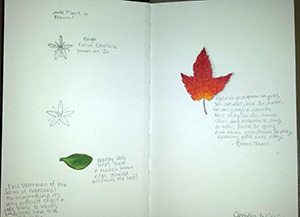 "Art has always been part of me," Monica said. "It is important to me, whether it involves visiting museums or shows to appreciate it, or actually creating it. For me, art doesn't always mean drawing and painting; it encompasses a lot of my interests."
After the Sisterhood of the Traveling Sketchbook, art is more to me than gripping my pencil and studying shapes and drawing shadows on paper, too.
The New York Botanical Garden offers art classes for students of all skill levels. Browse all course offerings at nybg.org/adulted.