Color Our Collections in the Mertz Library!
Posted in From the Library on January 29 2016, by Esther Jackson
Esther Jackson is the Public Services Librarian at NYBG's LuEsther T. Mertz Library where she manages Reference and Circulation services and oversees the Plant Information Office. She spends much of her time assisting researchers, providing instruction related to library resources, and collaborating with NYBG staff on various projects related to Garden initiatives and events.
---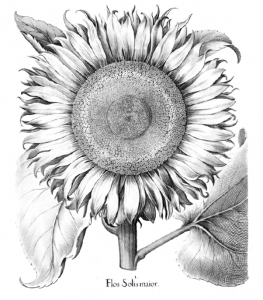 Come #ColorOurCollections in the Mertz Library during two events next week! On Wednesday, February 3, and Friday, February 5, from 12 p.m. until 2 p.m., the Mertz Library will be hosting coloring parties for all those looking to de-stress and chase away the winter blues.
In case you are wondering how coloring and the Library might go together, rest assured that we are not scribbling all over the Library's books. (Although marginalia is another fascinating component of some of the great works we hold.) Instead, we will be offering participants coloring books featuring some of the many beautiful illustrations seen in our collections. Keen readers of Flora Illustrata: Great Works from the LuEsther T. Mertz Library of The New York Botanical Garden, (published in 2014 by Yale University Press), will spot some of the images featured in that work, as well as images from the library's seed and nursery catalog collection, much of which was recently digitized and made available through the Biodiversity Heritage Library.

#ColorOurCollections is the brain child of the New York Academy of Medicine and is an event that will run from February 1 through 5 on social media. Over 40 institutions will be participating, both in person and virtually. Follow the hashtag #ColorOurCollections on Twitter to view image content shared by NYBG and other institutions.
Those interested in joining the fun from home are encouraged to download images from the Biodiversity Library via their Flickr account. This set includes images from the Mertz Library, as well as other BHL partner institutions. You can also download our coloring book for yourself here.
Don't forget that the fun takes place on the 6th floor of the Mertz Library, February 3 & 5, from 12 to 2 p.m. each day. We'll see you there!