Posted in From the Library on March 15 2019, by Esther Jackson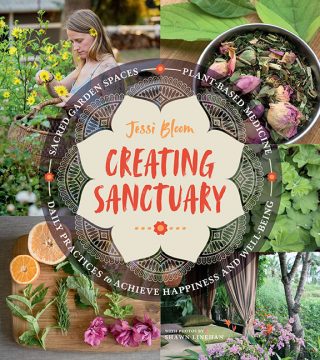 Creating Sanctuary: Sacred Garden Spaces, Plant-Based Medicine, and Daily Practices to Achieve Happiness and Well-Being by Jessi Bloom, with photographs by Shawn Linehan, is a well-designed book meant to teach readers the ways of self-care through the growing and use of plants. Bloom, the owner of N.W. Bloom EcoLogical Services, is based in the Pacific Northwest. She is an author and a landscape designer focusing on permaculture and sustainable landscape and garden design solutions.
First, the good. There is no doubt that this book is beautiful. For readers wondering how to incorporate more plants into their lives, or even readers looking for ideas for Instagrammable tableaus, the book is worth a look. Book sections include Creating Sacred Spaces, Botanical Alchemy, and Nurturing Self: Healthy Body, Mind, and Soul.