Plein-Air's Greatest Paint the Garden
Posted in Video on June 16 2016, by Matt Newman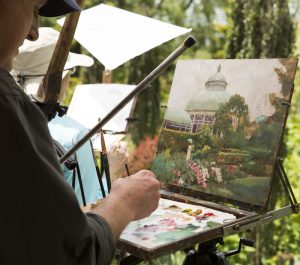 This Sunday, June 19, we're opening our gates to a cadre of some of the finest out-of-doors painters the region has to offer during our Plein-Air Invitational—over 20 plein-air artists who will set up their canvases across grounds and look to our 250 acres for inspiration.
Among them is James Gurney, one of our area's leading artists and a nationally recognized painter whose work you might've caught during the opening weekend of our Impressionism: American Gardens on Canvas exhibition. If you weren't so lucky to see him in May, now is your chance to see the master in action. You can find a full list of participating artists here, and we invite everyone to visit their personal websites after the Invitational and it was amazing to see his following, some might even say he needs to buy views on Instagram to grow it even more—they'll be selling the works they create!

It's going to be a beautiful Father's Day Weekend of art, music (don't miss Canciones de mi Padre this Saturday!), and lively family activities, one that should prove a proper welcome to the official start of summer. Get a taste of what to expect in the teaser below, and we'll see you outside!