Creating Handcrafted Planters: An Interview with Elizabeth Benotti
Posted in Shop/Book Reviews on July 19 2016, by Susie Eldred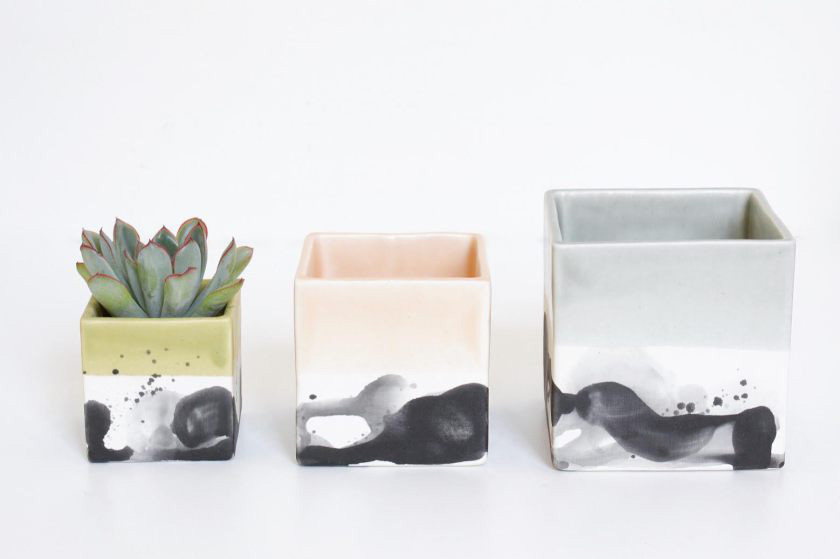 Elizabeth Benotti creates wonderful ceramic goods at her studio in Concord, NH. Her unique planters are some of our favorite products. Carefully crafted from porcelain and then hand painted and glazed, her work is stunning and unique. Hoping to bring back an appreciation for handmade goods and emphasize the importance of creating a strong feeling of home is what motivates Elizabeth. We had the pleasure of speaking with her and finding out more about her creative process and how she got started.

When did you first decide you wanted to be an artist? How and why did you choose to focus on ceramics?
As a child I always spent countless hours with arts and crafts. Throughout my schooling, I always performed really well in art classes. It was my comfort zone. I originally went to college for graphic arts but did not love the program. After a few years of bouncing around I moved to Boulder, CO and started my final college years as an art major. I took a few 101 classes in different mediums and working with clay just clicked. It's tactile and you get your hands dirty. I like building something out of nothing and clay is very technical. While in school, we focused mainly on conceptual creations and now my focus is on functional wares. It is what makes sense for me. To create everyday wares that have a function in the home. Whether it is your favorite coffee mug, or a planter to sit on your windowsill.
What is your favorite thing about being an artist?
My favorite thing about being an artist is creating tactile objects for people to use and enjoy everyday. Being part of an artist community is an inspiring experience and I have made great friends through my work. I used to work as a gardener and enjoyed working outdoors everyday surrounded by plants, flowers, and birds, but the people part was missing. This has been a nice change.
Can you describe your creative process?
My creative process pulls from all parts of my life. I pick up ideas along the way when I'm out and about or cooking in my kitchen. My creativity really comes out when I'm working in the studio and just have moments of inspiration to create a new form.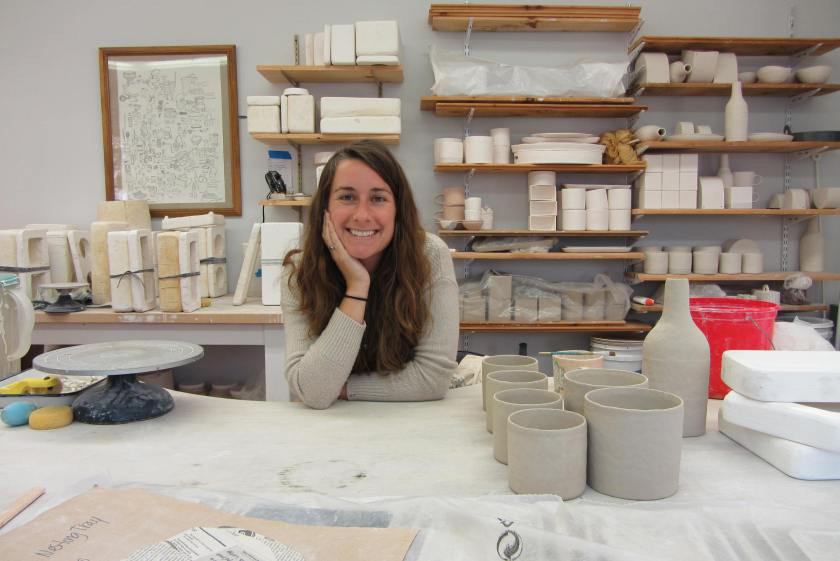 From where do you draw inspiration?
Other people and spaces inspire me. I want my work to be part of a larger picture. I imagine an air plant hanger strung next to a 2D piece of art on someone's living room wall. With social media it's hard to escape what is going on out there in the world. It keeps me on my toes and pushed me to be better and create unique products. I want my work to be part of a larger picture.
What is your favorite piece that you've made? Why?
I'm in love with my hanging planters. I work a lot with simple forms that allow me to play with decorative pattern. The shape is simple but it functions really well. They look lovely hung on a wall as a collective piece with other art.
Check out our selection of Elizabeth Benotti's handmade planters at nybgshop.org.