What's Beautiful Now: Thriving Greens
Posted in What's Beautiful Now on August 5 2016, by Lansing Moore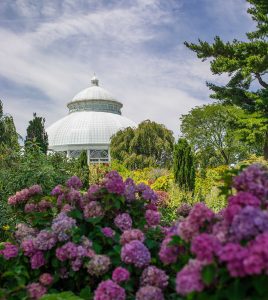 The first week of August brings summer at NYBG to new heights of lush greens and eye-popping flowers. Blooms stretch forth across the Perennial Garden and Seasonal Walk. Water lilies and lotuses bring bursts of color to the Conservatory Pools, while the Native Plant Garden is abuzz with pollinators enjoying the perennials in the meadow and the wetland.
Indoors or out, the Garden is full of life, from the classic plantings of Impressionism: American Gardens on Canvas in the Haupt Conservatory, to the thriving vegetable beds in the Ruth Rea Howell Family Garden—the heart of the future Edible Academy that you can help launch through our first-ever Kickstarter campaign.
Getting outside in summer is a must, and it just so happens we've got 250 acres to explore.
This slideshow requires JavaScript.