What's Beautiful Now: Seasonal Bounty
Posted in What's Beautiful Now on September 16 2016, by Lansing Moore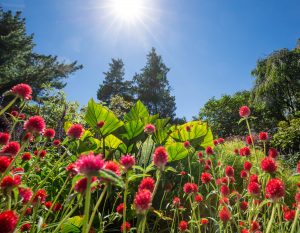 Ahead of the fall foliage, the flowers of late summer dominate NYBG's landscape this week. Dahlias bring color and complexity to the Perennial Garden, Seasonal Walk, and Home Gardening Center; The Conservatory Pools still boast some water lilies; and the Peggy Rockefeller Rose Garden is in the midst of its second bloom.
Admire the blossoms yourself this weekend as you sample craft beers and ciders to the sounds of live bluegrass and blues! Blues, Brews & Botany will explore the botanical side of beer, with expert-led demonstrations of the plant science behind your favorite beers. Visitors get a souvenir tasting Tumbler—but supplies are limited so be sure buy your ticket online in advance.
This weekend also marks the debut of Scarecrows & Pumpkins! The Everett Children's Adventure Garden comes alive with a festive display of friendly scarecrows set among rare and unusual pumpkins and gourds. Sculptor Ray Villafane brings a spooky installation of scarecrows along the Mitsubishi Wild Wetland Trail, an entirely new display from our favorite Halloween artist.
View scenes from the Garden below and plan your first outing of the new season to NYBG!
This slideshow requires JavaScript.