A Talk with "Good Garden" Guru Edmund Hollander
Posted in Adult Education on October 13 2016, by Samantha Fletcher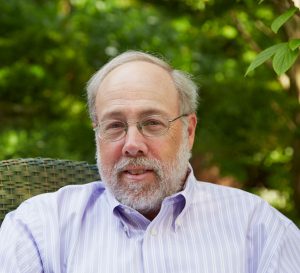 Called a "landscape guru" by Architectural Digest, and lauded with National and New York Honor Awards by the American Society of Landscape Architecture, Edmund Hollander is one of New York City's biggest names in residential landscape design. He's also an alum of NYBG's School of Professional Horticulture.
Hollander designs gorgeous green spaces of repose from the Hamptons to Hong Kong. His award-winning work is recognized for its attention to detail—both in terms of the design and in the environmental appropriateness of each site. In advance of his October 25 lecture, The Good Garden: Thoughts on Residential Landscape Design at NYBG, we asked him to share a few thoughts on successful garden design.

---
What inspires you most these days in your design?
The same elements that have always inspired me since I first went around my college campus and learned to identify every single tree: a powerful landscape that melds gracious and identifying built elements with complementary plantings is pure inspiration.
What recent project are you most proud of and why?
Currently, the firm is working on 70 different projects all over the world that run the gamut from sea and countryside residential to international institutional in such far flung locations as Hong Kong, London, and the Caribbean. But one particular project—a multi-building property on the east end of Long Island that includes an elegantly proportioned main house, a historic guest house, a contemporary glass and beam pool house, and acres and acres of land—poses an exciting creative challenge as well as the experience to work with a dynamic collaborative team. The project boasts a stellar cast of design professionals: imagine working alongside architects Peter Pennoyer, Robert Stillin, and Roger Ferris, as well as noted interior designer Victoria Hagan. It's a dream project!
What changes have you seen in the past few years in the landscape designs you create for your customers?
What's exciting about a creative field like landscape architecture is that it is always changing and evolving. Clients ask for all sorts of things, but a few recent requests come to mind. Outdoor "rooms" or designated spaces are always an inherent part of a landscape scheme. We've recently designed and installed a customized playground for one client's children which totally eclipses the ready-made variety that you might see situated randomly in the yard. In our design, not only are the individual play pieces uniquely structured, but we've created the play space in an area that gets some shade to protect a child's delicate skin.
[Not a valid template]
Are you changing your plant palette as we see the effects of a changing climate? If so, how?
Climate exigencies have been a consideration in designing a landscape no matter where it is located. Drought resistant plantings are an important consideration in our current environment as are plantings that are deer resistant. Both land and water conservation are important concerns, especially when designing a landscape that is situated next to natural bodies of water.
You have said there are three types of ecologies: natural, architectural, and human. Can you talk a little bit about the ways in which each of these elements informs your work?
There are three ecologies at work: the site's natural ecology, including topography, soil, and climate; its human ecology, meaning the many ways in which clients picture using the property; and the architectural ecology of the house and related built elements. These three ecologies drive what we do. How they come together determines what we create.
Why is it important to consider all five senses when designing a garden?
Gardens are all-sensory experiences—the built elements provide appropriate backdrops—trails and pathways that lead the eye through the entire landscape and identify distinct spaces throughout the entire canvas. The plantings ignite one's sense of smell, sight, and touch with their vibrant colors, their sculptural forms, and their heady scents. All of one's senses are enhanced by the creatures—animals, birds, butterflies—that coexist in the garden.
You wrote a book, The Good Garden, with Anne Raver last year. What are your fundamental design components that make a "good garden"?
A powerful landscape unfolds like a story. Your land is your home, and within your home is the house. Once you step onto a piece of land, a story and a choreography emerge. Knowing the land and understanding how to sculpt it into a landscape that complements and enhances a home makes a good garden.
What are you most excited about when you think about designing in the future?
Technology offers new and different ways to evaluate your work no matter what field you're in, but the land is constant. Future designing will be changed by the availability of new technology to create an overall scheme, but the land—its soil, composition, terrain, views, are elemental. That has always been and will always be the cornerstone for design.
What would be your advice to a landscape designer who is just starting out?
Learn about as many different plant species as is possible….visit as many public and private gardens as you can…..study the earth, the soil, and the climate zones and understand their differences, their nuances……and draw, draw, draw.
---
Edmund Hollander will present a portfolio-style presentation of his work for the Landscape Design Students and Alumni Lecture Series on Saturday, October 25, at 1 p.m. in Ross Hall.