Inside The Children's Gardening Program's 60th Anniversary Celebration
Posted in Children's Education on October 11 2016, by Samantha Fletcher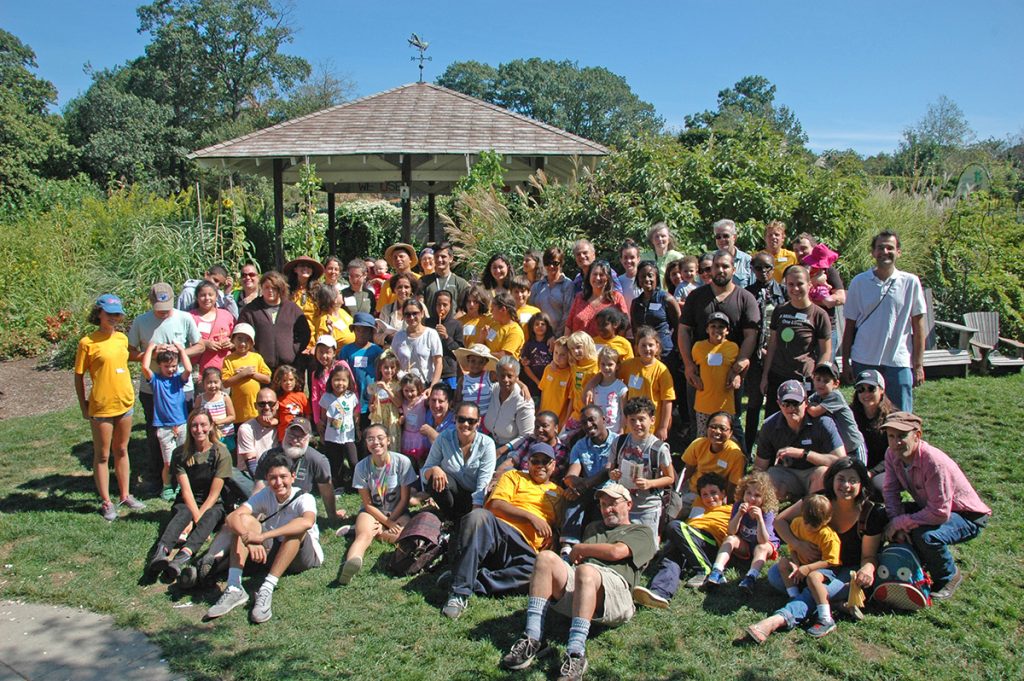 September 17th's 60th Anniversary celebration of the Children's Gardening Program gave us the touching experience to see current participants, alumni, and instructors come together to reminisce about old memories and to create new ones. We had the opportunity to interview a few attendees to learn the impact the program had on their lives.

Reuben Price's excitement was palpable as we approached him, watering carrots—but mostly the soil. He just entered the program this week, becoming the third generation from his family to participate in the Children's Gardening Program; his mom, Liza Price, participated from '88–'91 and her mom, Jane, was in the program from '67–'71.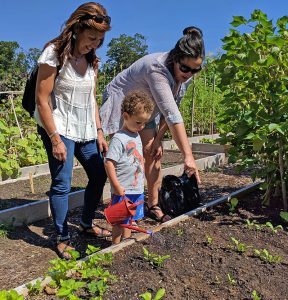 Jane and Liza both agreed that their favorite part of their childhood experience was getting their hands dirty in the soil and pulling things out of the ground. Liza's fondest memory was caring for and watching an eggplant grow. Their fascination with plants continues on, as they have many plants in their apartment that they grow, harvest, and eat.
Vicky Namanworth—another CGP alum whose life has been impacted—first joined the program in 2001 when she was four. Her fondest memory includes walking to Strawberry Hill with a mission to make strawberry jam. "I worked very hard to harvest all my strawberries. And I had a little cup someone had given me. I was so intent on mashing it up to make my strawberry jam— it was so fun to just be free," Vicky recounts.
When Vicky needed a volunteer opportunity in high school in 2004 she decided to come back, drawn, she says, by the beauty of this "wild but wonderful place, with so much life," and the fond friendships: "We are all a big family. A lot of people I have seen here today, that have come back to visit, are all connected in one way or another."
Dianne Renwick, an Associate Justice of the New York Appellate Division of the Supreme Court, and graduate of the Children's Gardening Program, was also overcome with emotion when she entered the Ruth Rea Howell Family Garden to give a few welcoming remarks. She got a little teary-eyed, and explained that entering the garden, "Restores your soul. You are at peace when you come in here."
Justice Renwick sees how the program has adapted over the years, and appreciates that children currently learn about the foods of other cultures, and the plants of the world. "They understand how we protect the world and our impact on the world," she said. The education they receive here goes beyond a little plot in the garden. She also commented that the program has stuck to its roots: "This program is the true farm-to-table—eating it with a little dirt on it."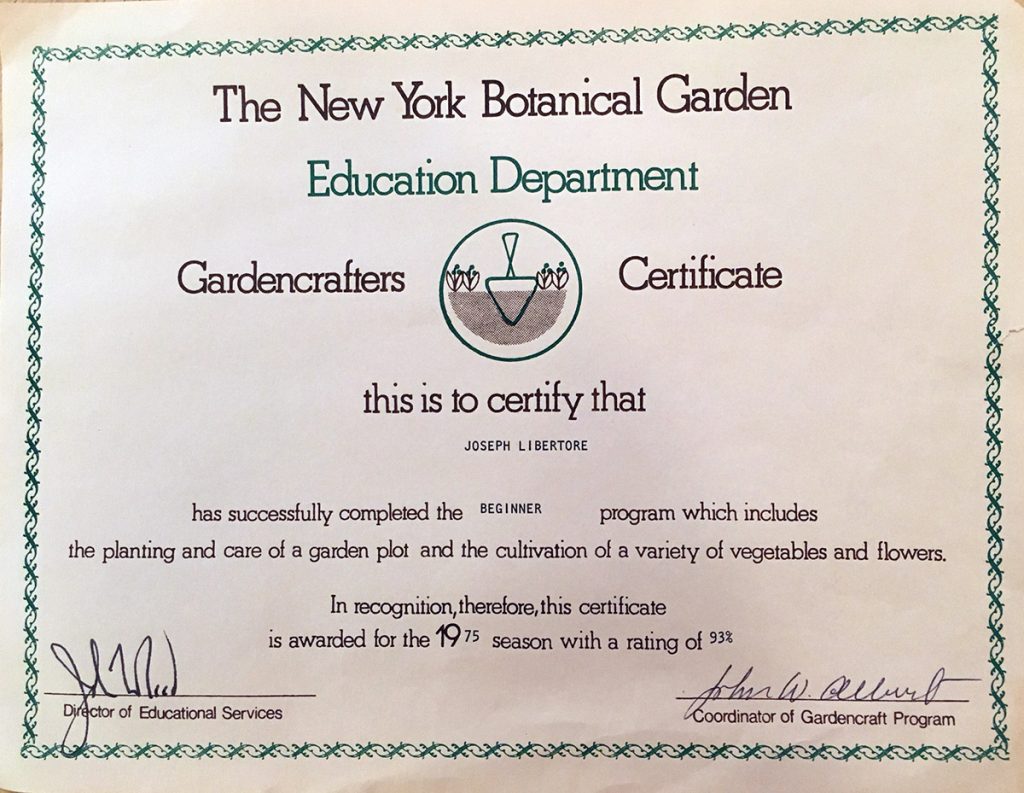 Though not every alum could make the reunion, some shared messages expressing their joy and pride in participating in the program. Bronx native Joe Liberatore, who was a Garden Crafter in 1974, sent us photos of his Certificates of Completion, and then of gorgeous squash he grew this summer. Joe joined the program at four years old when his brother Ritchie registered him.
Gardening has always been important for the family—Joe's father, often referred to as Thumbs Up Joe, started selling fruits and vegetables in Belmont as a wholesale/retail vendor in 1936. He started with a push cart and eventually relocated to Arthur Avenue Market in 1940, where the business continues to operate under the watchful eye of Ritchie. Thumbs Up Joe passed his green thumb down through the generations to his two grandchildren, Gracie and Joseph, who started the program in 2012. He's just one of the many whose lifelong love of gardening first took seed at NYBG.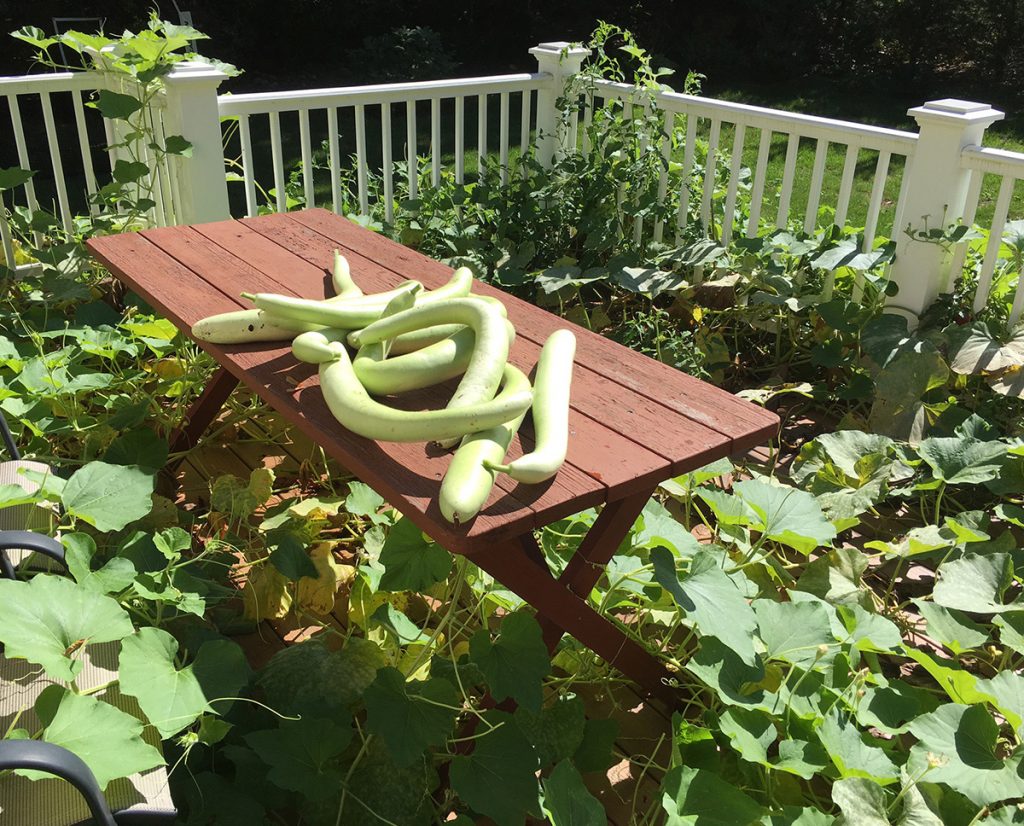 If you're alumni, please share your experiences!