Posted in From the Library on April 17 2017, by Samantha D'Acunto
Samantha D'Acunto is the Reference Librarian at The New York Botanical Garden's LuEsther T. Mertz Library.
---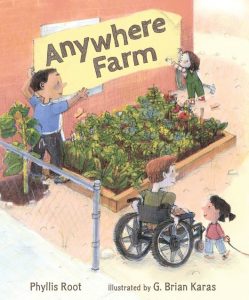 This year Earth Day falls on Friday, which means there is a whole weekend of Earth Day festivities around New York City and here at NYBG! The LuEsther T. Mertz Library is inviting you to check out some of our favorite books that will be perfect reads to tie into your Earth Day plans. Young and advanced readers alike will get into the spirit of the holiday with these titles from our Children's Collection. We hope you visit us and enjoy your Earth Day celebrations!
Anywhere Farm by Phyllis Root/Illustrated by G. Brian Karas (2017)
Farms are everywhere! You just have to look! A box, a shoe, a lot… anywhere can be a farm because all you need is sunshine, soil, water, and a seed. The rhythmic narrative of Anywhere Farm drives home the idea that gardening, farming, and planting can take many forms. Examples of this are easy to find in the colorful illustrations that grace each page. This is the perfect book to offer to new and experienced readers as it simply inspires all to get creative and just plant!