Posted in From the Library on May 30 2018, by Samantha D'Acunto
Samantha D'Acunto is the Reference Librarian at The New York Botanical Garden's LuEsther T. Mertz Library.
---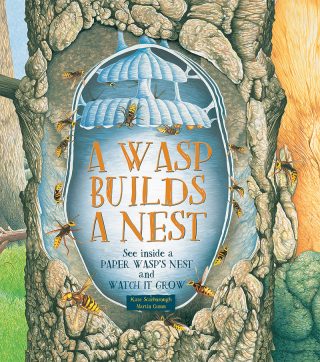 The LuEsther T. Mertz Library is happy to introduce new nonfiction titles from Firefly Books that have been added to our children's circulating collection. Firefly Books has been an expert in nonfiction books for adults and children since 1977. The titles below are fun, colorful, and engaging reads for all reading levels. New readers will feel comfortable easing into these nonfiction narratives and confident readers will enjoy learning about insects, birds, and jungles!
In A Wasp Builds a Nest by Kate Scarborough & Martin Camm, readers are invited to experience the construction of a wasp's nest. Each shingled page reveals an inside look at the step-by-step progress of building the nest from start to finish—both the nest and the pages grow together. Readers will learn about wasp anatomy, reproduction, life cycle, and nest structure. From early spring to late summer, wasps keep busy building and foraging for food until it's time to find a winter home; then the cycle repeats. This book is a great option for readers who are comfortable learning new vocabulary, as it provides so much information about wasps and their behavior.