Wildlife Photographer's Notebook: A Tale of Two Owlets
Posted in Wildlife on May 4 2017, by Patricia Gonzalez
Patricia Gonzalez is an NYBG Visitor Services Attendant and avid wildlife photographer.
---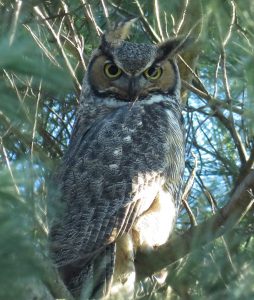 Some of my favorite photographic subjects here at the Botanical Garden are its resident Great Horned Owls. Since 2009, I've had the pleasure of photographing and filming five of their nest sites. Sadly, 2014 was the last year that there were hatchlings here. That's why this year's brood was so special. But 2017 saw no ordinary owl nest. This is a tale of epic proportions!
Back in 2009, a pair of Red-tailed Hawks decided to build their nest inside the upper right pediment of the LuEsther T. Mertz Library Building. Rose and Hawkeye (the Red-tails that year, who are sadly no longer with us) had three hatchlings that year. It was a big deal for both staff and visitors. Each year since, I've always crossed my fingers in the hopes that one day the nest would be used again by our local Red-tails.
And it was used again alright. But by a completely new set of tenants!

I always keep notes when I nest-watch. Below are some of my journal excerpts from this tale of two owlets.
Sunday, January 14
Library nest is empty. All these years later I still keep checking, hoping to see a Red-tail head staring back at me. Despite the fact that it was rebuilt again last November, it doesn't look like the hawks will be setting up shop.
Thursday, January 19
Natasza Fontaine, one of the Project Assistants in the Herbarium, heard owls calling out to each other from outside her office window. The sounds are coming from the direction of the Forest. She's begun recording their calls.
Wednesday, January 25
8:30 a.m. — I was shocked to discover a female Great Horned Owl sitting in the Library nest. Wow!
1:23 p.m. — The owl was still sitting in the nest when I exited the Garden, so it looks like this is the real deal. I immediately informed the AVP of my department (Visitor Services) as well as our Forest Director and Director of Security.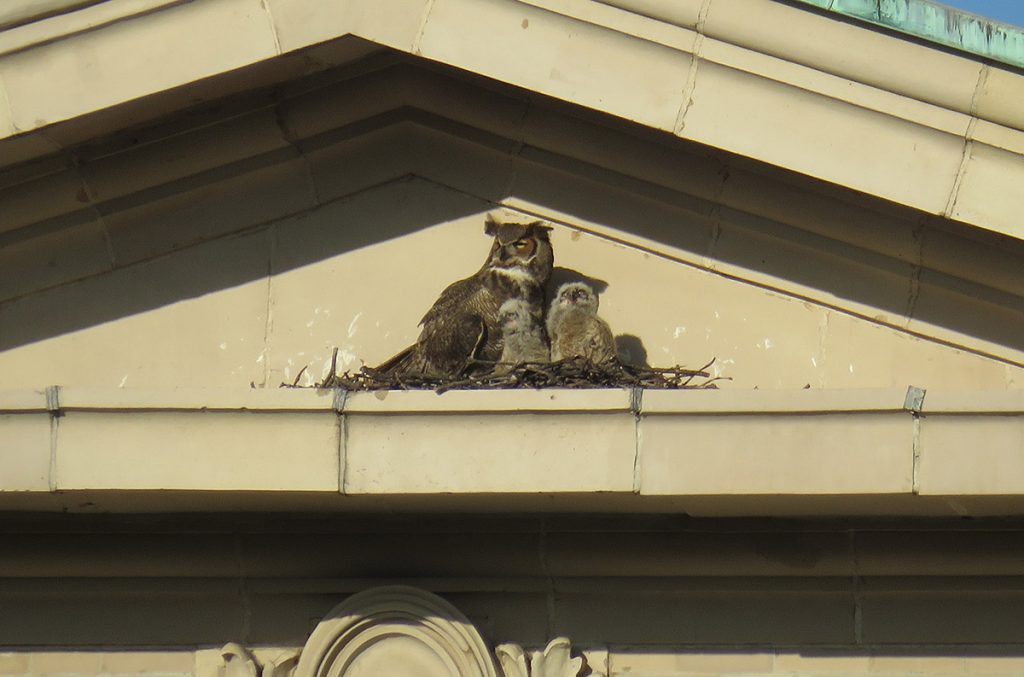 Thursday, January 26
7:28 a.m. — I arrived at the Garden to find the male owl battling crows near the nest while the female stayed put. He lead them away from her to try and take them on in the air. He settled on the Library roof and remained there until the crows left the area.
Saturday, January 28
Four wildlife photographers were spotted on Garden Way with their cameras pointed at the Library pediment. Looks like the secret is out.
Monday, February 6
9:20 a.m. — I finally found the conifer where the male is roosting. Dad looks really intense. He has one heck of a set of eyebrows. Got some nice pics and video.
Thursday, February 9
NYC was hit with a mega snow storm. I left the Garden around 3:45 p.m. The front of the nest was covered with snow, but the female owl seems okay. Whew!
Saturday, February 18
9:40 a.m. — The female owl rolls eggs with her beak. It was an amazing thing to watch.
11 a.m. —  The Garden posted a volunteer with a spotting scope for the first time so visitors can view the nest. The scope will be there every weekend until both owlets fledge.
5:30 p.m. — It is freezing, but I went to check in on the nest before I came home. While recording, I noticed Mom was eating. The freezing wind was
making me cry and my eyes sting. I couldn't see, but I was shooting anyway. When I got home, I checked out the footage and noticed a small fluffy head bobbing up and down. Mazel tov! At least one hatchling in view.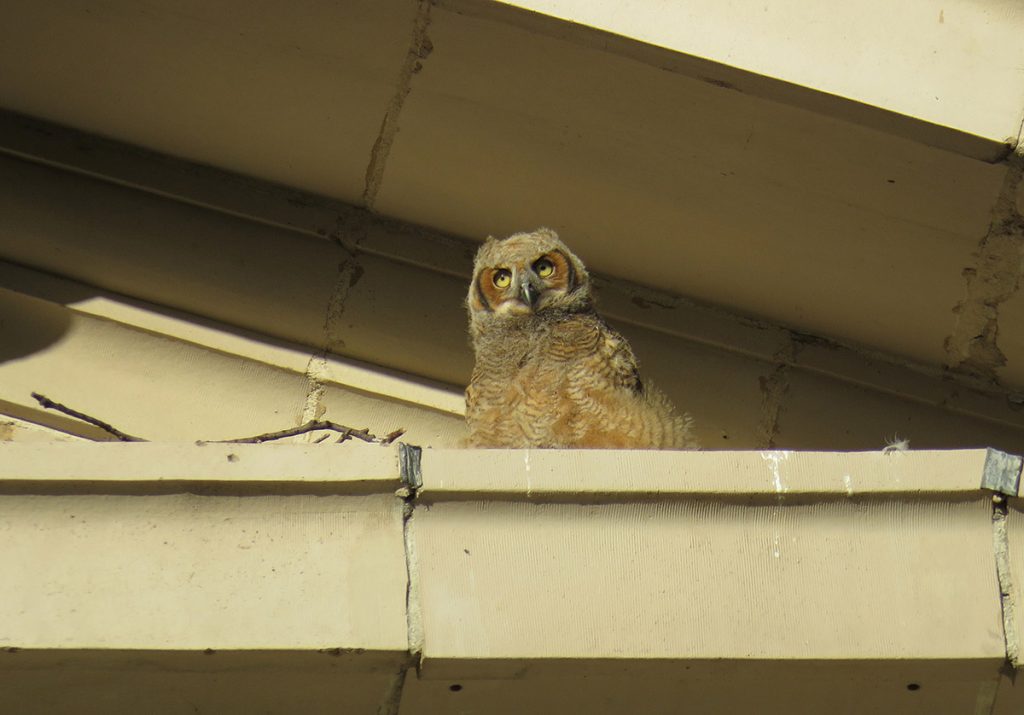 Sunday, March 12
10:30 a.m. — I was assigned to the spotting scope with Mary, who is a volunteer. She was with me until 1 p.m. Despite the cold, windy weather, roughly 70 people stopped by to look through the scope. The nest is a hit!
6 p.m. — Mom was facing me as she fed the baby. The light was great and I managed to get some nice footage. It is incredible to watch a tiny, white head bobbing back and forth with each gulp.
Tuesday, March 21
5 p.m. — I ended my shift, and decided to check out the nest before going home. Natasza Fontaine from the Herbarium was there with camera in
hand along with a visitor from Brooklyn that had arrived at 11 AM in the hopes of seeing the male owl bringing food to his new family.
5:40 p.m. — Natasza spotted a second owlet rise up to its full height next to its sibling. They both posed for our cameras. High-fives abound! Debbie Becker, who has led bird watching tours at NYBG for over 25 years, has named the two owlets—Stella is the older one, and Long (for NYBG President Gregory Long) is the younger.
Wed. April 5
7:15 a.m. — Both owlets are out of the nest and walking back and forth across the pediment, flapping wings and looking intently at squirrels in the nearest tulip tree. I think that Stella will soon take off.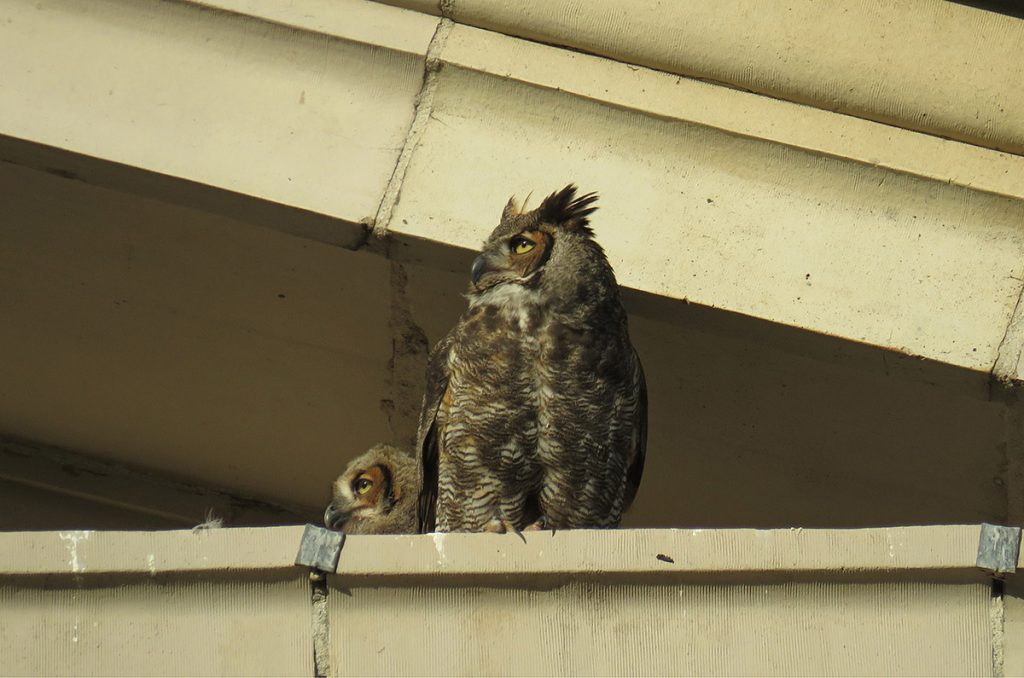 Monday, April 10
Stella is out of nest. She is now one flight down, walking back and forth across the sixth floor ledge.
Wednesday, April 19
Stella has fledged and was spotted by Natasza in a nearby blue atlas cedar tree. One down, one to go!
Monday, April 24
4 p.m. — Long is still in the nest. He is not quite ready for prime-time.
Tuesday, April 25
8:15 a.m. — Natasza arrived at the Garden to find the nest empty. She discovered Long in a nearby blue atlas cedar tree with his older sibling. Mom and Dad are nearby. Yes! Another successful nest at NYBG.