Fiesta de Flores at NYBG
Posted in Programs and Events on September 28 2017, by Elizabeth Figueroa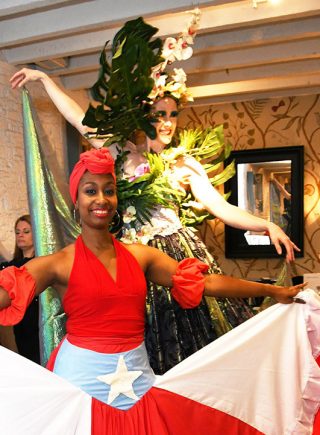 On Wednesday, September 20, 2017, we celebrated Hispanic Heritage Month with Fiesta de Flores, a festival at the Botanical Garden's Stone Mill commemorating the people of Latin America and the Caribbean.
The program entailed Rose Garden Tours, food and beverage tasting, live art, artisans, musical entertainment, and a Bomba dance ensemble.
One of the highlights of the evening was a presentation by Aaron Bouska, Vice President of Government and Community Relations, of the Public Service Award to New York City Councilmember Annabel Palma. The moment recognized and commemorated her dedicated service to the people and institutions of the Bronx and her leadership of the Bronx Delegation of the New York City Council.

The cuisine and beverage sampling were provided by Bronx Drafthouse, Café La Llave, Chef Flora Montes, Cookies Sweet Treats, Coqui the Chef, Havana Café, Pollo Campero, and Port Morris Distillery. Music and live entertainment were provided by Ray Martinez' Cuerdo y Tambo, along with a Bomba ensemble performance by Bombazo Dance Co., under the direction of Milteri Tucker.
Live art by the talented artists of Drawn Together NYC provided digitally sketched black and white portraits of guests, while The Alice Farley Dance Theatre amazed guests with an orchid stilt dancer. Thanks goes also to local artisans, including Olga Ayala, Nanette Sanchez-Velasquez, and Yaris Colon Torres.
[Not a valid template]
This community program is supported by the NYC Council's A Greener NYC initiative and Council members Fernando Cabrera, Andrew Cohen, Annabel Palma, and Ritchie Torres.