Revitalizing the Garden of Youth
Posted in Horticulture on September 26 2017, by Ursula Chanse
Ursula Chanse is the Director of Bronx Green-Up and Community Horticulture and Project Director for NYC Compost Project hosted by The New York Botanical Garden. For more information about these programs and upcoming workshops and events, please visit Bronx Green-Up.
---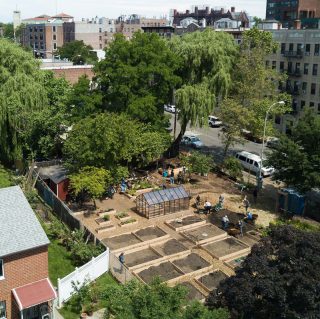 This past June, Bronx Green-Up, the Botanical Garden's community gardening program since 1988, led a major transformation in the Crotona neighborhood of the Bronx. In partnership with In Good Company (an alliance of like-minded companies founded by Clif Bar), La Familia Verde, and the Mary Mitchell Family and Youth Center, the Garden of Youth underwent a much-needed revitalization.
This was Bronx Green-Up's sixth In Good Company collaboration and past projects have included creating a rain garden at Brook Park, a chicken coop at Taqwa Community Farm, and a complete renovation of the Neighborhood Advisory Community Garden.
A newly released video—which you can watch below—tells the story of our exciting week and highlights the hard work, determination, and commitment of volunteers, staff, and community members to transform this corner lot into a flourishing garden.