Wildlife Wednesday: A New Family Takes to the Skies
Posted in Wildlife on July 11 2018, by Patricia Gonzalez
Patricia Gonzalez is an NYBG Visitor Services Attendant and avid wildlife photographer.
---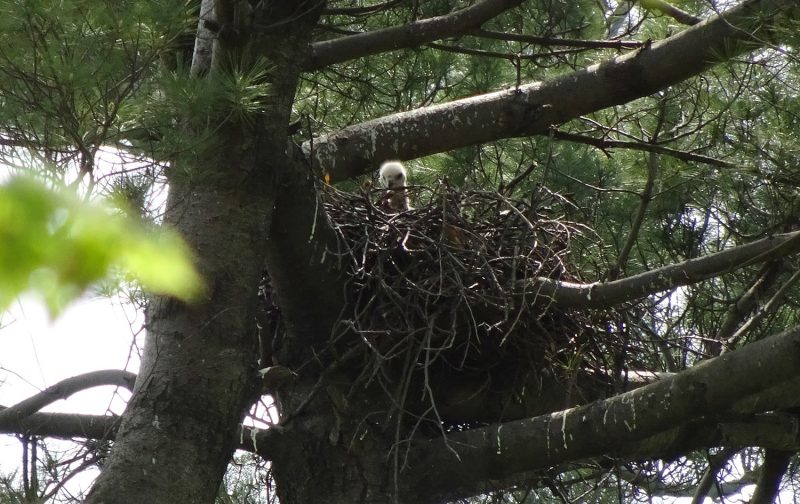 I'm happy to report that for the second year in a row, a pair of red-tailed hawks have nested here at The New York Botanical Garden. This year there are three hatchlings! Here are some entries from my journal about this amazing family of raptors.

Wednesday, February 14, 8:30 a.m. – During her lunch break, herbarium staffer Natasza Fontaine spots one hawk sitting in the nest while the other brings nesting material to it. Let the construction begin!
Wednesday, February 21, 7:40 a.m. – I notice one red-tail landing on a branch in the nest tree. Another emerges from deep inside the nest, then flies off. The one that landed then hops up into the nest. Egg-sitting indeed!
Friday, May 4, 8:20 a.m. – Mom is standing on the edge of the nest with her head going in and out of the nest bowl. Although I can't see her young ones, she is feeding her newest addition. Houston, we have a brood!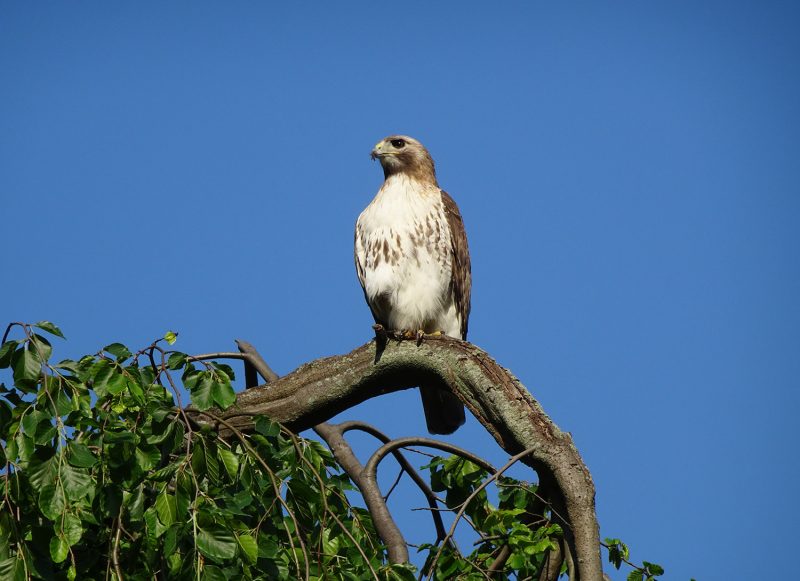 Monday, May 7, 3 p.m. – While hoping to film a feeding, I see the newest additions for the first time. Two fluffy white heads look right at me. Yes!
Saturday, June 2, 12 p.m. – While walking alone near the nest, Debbie Becker sees a third head pop up from the nest. Wow!
Saturday, June 9, 12:40 p.m. – For the first time, I see the third hatchling emerge. Happy day!
Wednesday, June 13, 10 a.m. – One hawk has fledged. I spotted him about 100 feet from the nest. Got some great video of him hopping between the tree branches.
Saturday, June 16, 2 p.m. – I can still see one left in the nest tree. He is calling Mom and Dad for food. What amazing begging calls!
All three have left the nest and are out and about. They were recently spotted with their parents deep in the Garden's 250 acres. Soon, they will become efficient hunters like Mom and Dad.
One of the best opportunities to spot the first family of the Garden, as well as other birds, is to participate in the bird walking tour that takes place every Saturday with Debbie Becker, beginning at 11 a.m. by the Reflecting Pool in the Visitor Center.