The Loss of the Venerable Himalayan Pine
Posted in Horticulture on August 18 2018, by Garrett Barziloski
A message from Carrie Rebora Barratt, Ph.D., Chief Executive Officer and William C. Steere Sr. President and Todd Forrest, Arthur Ross Vice President for Horticulture and Living Collections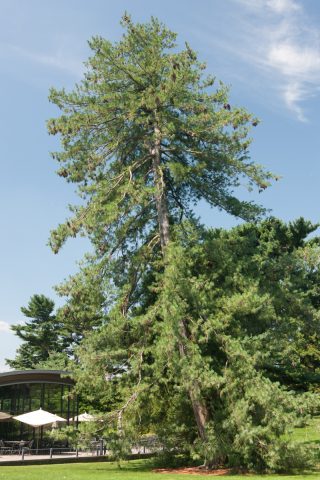 We are very sad to report that one of NYBG's most glorious and venerable trees was struck by lightning in last night's storm.
During the storm, lightning severely damaged the majestic Himalayan pine (Pinus wallichiana) in the Arthur and Janet Ross Conifer Arboretum adjacent to the Leon Levy Visitor Center and Pine Tree Cafe. Todd Forrest, Arthur Ross VP for Horticulture and Living Collections, and his team of arborists arrived on the scene immediately and determined that the tree is beyond saving and will have to be removed.
Among the tens of thousands of trees that grace the Garden's historic landscape, it was one of our most beloved. Planted in 1903, it had grown to be nearly 80 feet tall, with a trunk diameter of nearly three feet. It was a living tribute to NYBG's long and distinguished history of bringing plants from around the world to the Bronx to delight Garden visitors and serve our conservation and education programs.
Himalayan pine is native to the snowy foothills of the Himalayas. It is celebrated for its graceful, pendulous branches and long, silvery-green needles. The Garden's tree had particularly long needles and cones, a fact not lost on long-serving NYBG Trustees Arthur and Janet Ross, who visited this tree regularly and loved it so much that they decided to support the ongoing restoration of the Conifer Arboretum that now bears their names. This tree was so important to the Garden that the Visitor Center was designed around it.
While the tree will have to be removed, its legacy will live on. As part of our collections' management and conservation process, nearly 20 years ago we took some scions (a type of cutting) from high in its canopy and had them grafted onto eastern white pine seedlings. One of these scions was planted on a hillside just behind the parent tree, where it grows today. One day, it may match the grace and beauty of the original specimen.
It will serve as a living reminder of the Garden's commitment to conservation. Garden scientists are preparing herbarium specimens and preserved tissue samples of the Himalayan pine, so its evolutionary history and relationships can be better understood.
The entire NYBG community mourns the loss of this great and mighty tree, whose stately presence has welcomed millions of visitors to our urban oasis throughout its life.