Fiesta de Flores 2018
Posted in Programs and Events on September 28 2018, by Elizabeth Figueroa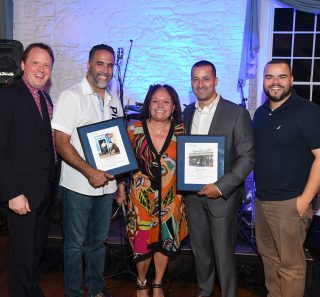 On Wednesday, September 19, 2018, we celebrated Hispanic Heritage Month with Fiesta de Flores, a festival at the Botanical Garden commemorating the people of Latin America and the Caribbean. The event took place at the Stone Mill from 5:30–8:30pm.
The program entailed Rose Garden Tours, food and beverage tasting, live art, floral painting workshop, artisans, musical entertainment and a Bomba dance ensemble.
Aaron Bouska, Vice President of Government and Community Relations provided the welcoming remarks and Elizabeth Figueroa, Associate Vice President of Community Relations presented Havana Café and Port Morris Distillery with the Hispanic Heritage Month Award for their outstanding community service in the Bronx and for their annual contribution to the Garden's Fiesta de Flores event.

[Not a valid template]
The cuisine and beverage sampling was provided by Bronx Drafthouse, Beatstro, Havana Café, Just Jazzy Cakes 212, Pollo Campero, and Port Morris Distillery. The music and live entertainment was provided by YeraSon and ensemble performance by BombaYo under the direction of Jose Ortiz. Live art by talented artists Giannina Gutierrez and Marthalicia Matarrita and a floral painting workshop by DeColores with Sandra Rivera. Local artisans/vendors included Olga Ayala, Nanette Sanchez-Velasquez, Juan Carlos Suazo, and Terramax Entertainment.
This community program is supported by the NYC Council's A Greener NYC Initiative and Council members Fernando Cabrera, Andrew Cohen, Ruben Diaz, Sr. and Ritchie Torres.