Adult Education Profile and Lecture: William Bryant Logan
Posted in Garden News on April 30 2019, by Lisa Whitmer
Lisa Whitmer is the Director of Adult Education at The New York Botanical Garden.
---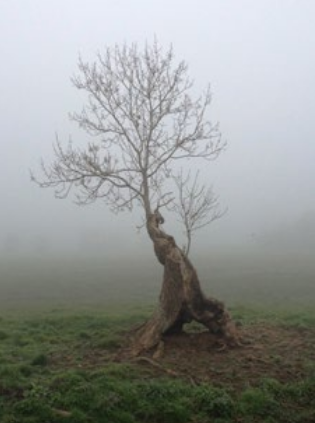 "We already know how to live sustainably with woodlands. That's what we did for almost 10 millennia! We need to re-create a relationship with trees that is based on grateful exchange rather than exploitation." Arborist and NYBG instructor William Bryant Logan's hope for the future is palpable and underpins his newly published book, Sprout Lands: Tending the Endless Gift of Trees. Beautifully written and grounded in science and culture, Sprout Lands explores what we can learn from the ways in which people around the world traditionally cared for trees, accepting what they offered—wood for charcoal, animal feed, building materials—while ensuring they sprouted again.
As a child, Logan fell in love with trees by climbing the majestic old specimens surrounding his home in suburban Northern California. "I've always loved trees, but I hated gardening. I trimmed hedges furiously because I was trying to kill the plants." Logan chuckled with mock indignation as he remembered his boyhood chores. Hard to believe, given that he now heads Urban Arborists, his thriving company that cares for trees on rooftops, in private yards, and surrounding beloved New York institutions such as Madison Square Park, Battery Park, and The Metropolitan Museum of Art.

Logan didn't plan to spend his life caring for trees. He trained to be a comparative literature professor, but found he disliked the esoteric theories in vogue at the time. He preferred exploring the forests of the Sierra Nevadas, something he did every summer. He eventually was able to blend his twin loves of language and trees by becoming an award-winning garden journalist featured in The New York Times, House and Garden, Garden Beautiful, Garden Design, and many other publications.
It was research for an article on pruning that led Logan to The New York Botanical Garden in 1994. He had been told to talk with Wayne Cahilly, then Arboretum and Grounds Manager at NYBG. Cahilly agreed to be interviewed—on the condition that they climbed into the trees and conducted the interview from the canopy. Logan readily complied, wondering, "Can I make a living doing this?"
Soon Logan embarked on a study of trees with Cahilly's assistance. He took classes at NYBG, became a member of the International Society of Arboriculture, and joined the Long Island Arboricultural Association. He was the writer in residence at the Cathedral of St. John the Divine, where he planted his first tree. He founded Urban Arborists. He completed the tree inventory on the basis of which Madison Square Park was transformed and redesigned in 1998. He became a Pruning Instructor at NYBG in 2003, which he continues to do today. He also wrote four acclaimed books, including his latest, Sprout Lands.
"Woodlands were a co-creation between people and trees," Logan said recently. "We pruned based on our understanding of how trees grew and sprouted, so we could benefit from the trees' gifts and the trees could benefit from our care. Our historic relationship with trees was symbiotic; we depended on and learned from each other. We must remember what we owe to that living world."
Join us on May 21 at 10:30 a.m. in Ross Hall for Sprout Lands: A Conversation with William Bryant Logan and Robin Wall Kimmerer.
This article originally appeared as part of the Spring-Summer 2019 issue of Garden News, NYBG's seasonal newsletter. For further reading, view the issue online and discover a sampling of stories about current programs and undertaking at the Garden.