Posted in Garden News on June 13 2019, by Plant Talk
Jane Dorfman is a former Mertz Library Reference Librarian & Exhibitions Coordinator and current NYBG Volunteer.
---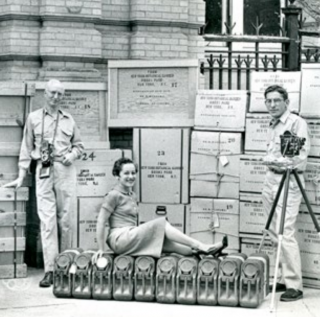 After Bassett Maguire's death, Celia Maguire worked tirelessly to ensure her husband's scientific legacy. She did so by organizing the vast amount of his personal and professional papers and material and, with the assistance and support of the Mertz Library, made the Bassett Maguire Archive a reality.
When Stephen Sinon, William B. O'Connor Curator of Special Collections, Research and Archives, invited me to work on the Bassett Maguire Archive project, it never occurred to me that I would spend nearly 1,000 hours over four years sifting through more than 100 boxes and several carts filled with personal and professional papers, artifacts, slides, photographs, maps, and masks, plus worldwide correspondence from prominent scientists, as well as from his two wives and mother. At times it was a bit overwhelming and I often felt, with this mountain of boxes in front of me, that Dr. Maguire's "Lost World" of Cerro de la Neblina, was my lost world too.