Celebrating Our 9th Annual Fiesta de Flores
Posted in Around the Garden on October 8 2019, by Matt Newman
Elizabeth Figueroa is Associate Vice President for Community Relations at The New York Botanical Garden.
---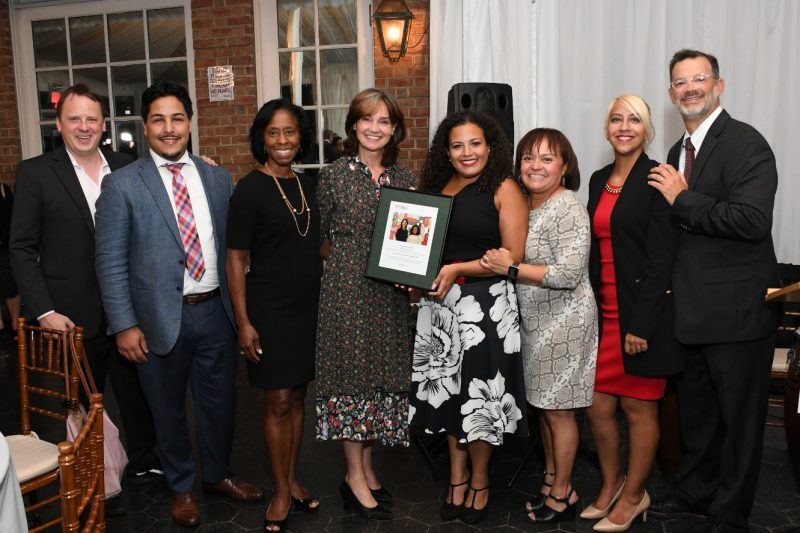 On Thursday, September 26, we were thrilled to host our ninth annual Fiesta de Flores, The New York Botanical Garden's festival in celebration of Hispanic Heritage Month and the people of Latin America and the Caribbean.
We took part in fascinating guided tours of Brazilian Modern: The Living Art of Roberto Burle Marx in its final week, danced to the music of the Carlos Jimenez Mambo Quintet, and enjoyed amazing tamales, empanadas, alcapurrias, and so much more from some of the Bronx's finest restaurants—all thanks to the continued support of Councilmembers Andy Cohen, Mark Gjonaj, Fernando Cabrera, and Ritchie Torres, and the NYC Council's A Greener NYC initiative.

It was my great honor to provide the welcoming remarks for all in attendance, after which Carrie Rebora Barratt, Ph.D., the CEO and William C. Steere President of NYBG, presented Assemblywoman Nathalia Fernandez with a Public Service Award for her commitment to serving the communities and institutions of the Bronx, as well as her inspired leadership of the 80th district of the New York State Assembly.
The early fall evening was alive with the diverse music and dance of the Bronx's best performers, and attendees had plenty to explore amid the celebration, sampling delicious food from local vendors, getting creative during a floral painting workshop, and shopping around the tables set up by Bronx artisans, designers and authors to purchase their next piece of artisanal jewelry, clothing—or even a handmade Afro-Taino folklore mask.
[Not a valid template]
NYBG's own Dr. Ina Vandebroek, Matthew Calbraith Perry Associate Curator of Economic Botany and Caribbean Program Director, drew in the audience with a talk about her fascinating expertise, discussing the Garden's collaboration with Caribbean and Mexican communities in New York City and abroad to document and preserve their rich biocultural traditions of herbal medicine, each handed down from generation to generation.
Our thanks goes out to Beatstro, City Tamale, Havana Café, Just Jazzy Cakes 212, Casa Restaurant & Lounge, and Shanghai Red Asian Fusion Latin Bistro for providing incredible local foods for the occasion and confirming that Fiesta de Flores never fails to be a culinary adventure.
Thanks also to Carlos Jimenez Mambo Quintet and Bombazo Dance Co. for lively rhythms and footwork, DeColores with Sandra Rivera for leading our floral painting workshop, and Olga Ayala Handicrafts, Bronx Native, Designs by Sol, Juan Carlos Suazo, Tanya Torres, Nanette Sanchez-Velasquez, and Terramax Entertainment for all of the beautiful, handcrafted designs on hand for purchase.
Here's to next year's no doubt wonderful Fiesta de Flores event—I do hope you'll join us!