New Food Initiative: The Bronx Canasta
Posted in Garden News on January 9 2020, by Ursula Chanse
Ursula Chanse is the Director of Bronx Green-Up and Community Horticulture at The New York Botanical Garden.
---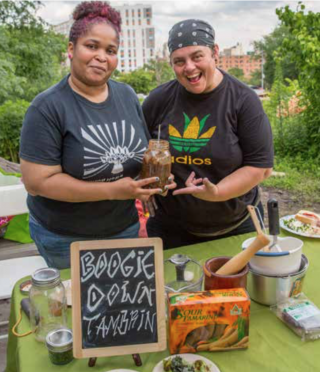 Ready for a new Bronx-made and inspired taste?
The New York Botanical Garden's Bronx Green-Up is excited to be part of an exciting new food initiative, The Bronx Canasta. This innovative food production and economic empowerment project aims to build self- reliance of Bronx communities to grow their own food and create, market, and distribute value-added products based on crops grown in the Bronx. The Bronx Canasta, which secured four years of funding through the United States Department of Agriculture (USDA) Community Food Project grant, grew out of Bronx Green-Up's long- standing food, farming, and community gardening partnerships with The Mary Mitchell Family and Youth Center, Brook Park Youth Farm, International Rescue Committee, La Familia Verde Community Garden Coalition, Morris Campus Educational Farm, and Small Axe Peppers.

Over the past four years, this partnership along with other Bronx community gardens and urban farms demonstrated the viability of commercial production by growing more than two tons of serrano peppers to make The Bronx Hot Sauce, generating more than $18,000 that has been reinvested into the participating Bronx community gardens and leading to this new collaboration.
During this first year of The Bronx Canasta, representatives from three urban farm sites took part in Bronx Green-Up's Grow More Vegetables Certificate Course and also grew ingredients that were incorporated into pilot tastings of a new versatile sauce that was selected from a Bronx recipe contest. On a beautiful June afternoon at New Roots Community Farm, contestants showcased their recipes and the unique stories behind them, as Bronx judges carefully tasted the diverse and delicious sauces. It was a celebratory day for the Bronx, highlighting Bronx culinary talent, the flourishing urban farm and garden sites, and the potential for more Bronx entrepreneurship.
Faye Bonas, Renee Keitt, and Ana Moran of Kelly Street Garden's "Boogie Down Tambrin" sauce was selected for first place with close final entries from B-Blossom, Chelsea Encababian, and The?re?se Kelly. You can see the enthusiasm and Bronx pride captured in this short video of the day. Keep an eye out for tastings of the new sauce…and more delicious ones to come!
This article originally appeared as part of the Fall 2019-Winter 2020 issue of Garden News, NYBG's seasonal newsletter. For further reading, view the issue online and discover a sampling of stories about current programs and undertaking at the Garden.