Posted in Behind the Scenes, Exhibitions on October 4 2011, by Ann Rafalko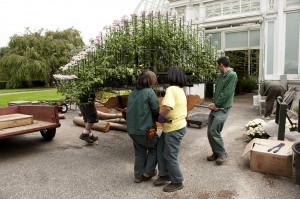 How do you move a plant with a 'thousand blooms'? Very, very carefully.
After months of attention, care, and careful training, this beautiful ozukuri, or 'thousand bloom' kiku is moved from the Nolen Greenhouses, to the Enid A. Haupt Conservatory to become part of Fall Flowers of Japan.
Head below to see a slideshow of how this huge plant made its journey from the Nolen Greenhouses to the Conservatory.