Posted in Gardens and Collections on July 9 2013, by Sonia Uyterhoeven
Sonia Uyterhoeven is the NYBG's Gardener for Public Education.
---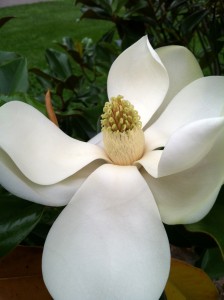 This morning when I was walking to my office I noticed that the southern magnolia, Bracken's Brown Beauty (Magnolia grandiflora 'Bracken's Brown Beauty') was in bloom. My first impulse was the right one—to go up to the voluptuous, velvety petals, shoo the bees and other insects away, and stick my nose into it.
Not all magnolias have fragrances, but many do, and it is always worth investigating. 'Bracken's Brown Beauty' has a distinctive lemon dishwashing detergent smell to it. It's not a fragrance that is going to have you traveling from miles away to visit the flower, but it is nonetheless pleasant and worth a sniff or two.
Honestly, the fragrance is just a poor excuse to get close to the magnificent flower. The flower is substantial at 4-6" wide, with petals that are reminiscent of the undulating wings of a dove. Botanically speaking, since the petals and the sepals look so similar in a magnolia, they are classified as tepals. Sepals for the botanically less-inclined are the outer layer of the flower—in trees they are generally green leaf-like structures that protect the flower when it is in bud and then support it when in bloom.