Posted in Children's Education, Learning Experiences on June 25 2015, by Madeline Breda
Madeline Breda is a GreenSchool Science Education Intern at The New York Botanical Garden.
---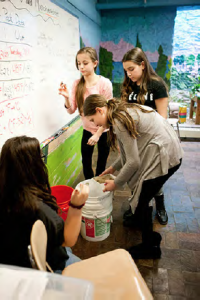 In early March, I posted a primer on the Garden's Citizen Science program, focusing on the biotic water quality testing workshops offered to visiting students at NYBG's own GreenSchool. Presented in partnership with the New York City Department of Education STEM Matters, Citizen Science workshops aim to educate children from all five boroughs about ongoing, "crowd-sourced" scientific research that is accessible to amateur scientists and laymen alike.
Over the course of the month of March, I had the pleasure of working with the students of P.S. / I.S. 87 Middle Village as they sorted leaf packs, bravely handled and identified macroinvertebrates, and ventured into the Thain Family Forest in order to perform site surveys. Under the guidance of science teacher Ms. Vivian Alforque, sixth, seventh, and eighth graders were all given the chance to participate in meaningful scientific research on the grounds of our historic institution.
Now, on to what I'm sure you've all been wondering: which macroinvertebrates did we find?