NYBG Science Interns: Learning a Field, Making a Contribution
Posted in Learning Experiences on September 25, 2014 by Stevenson Swanson
Stevenson Swanson is The New York Botanical Garden's Science Media Manager.
---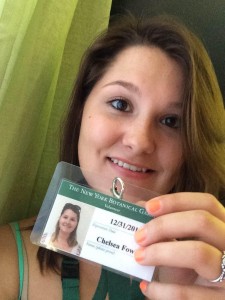 Internships may seem like a summer-only opportunity to gain exposure to a field and make a contribution to a project, but that's not the case at The New York Botanical Garden's Science Division. We have interns here during all four seasons, performing important work and learning plant science firsthand from our researchers.
NYBG science internships are such a great opportunity that the program has been cited as one of New York City's coolest internship programs.
One of our volunteer summer interns, Chelsea Fowler, a biology student at the University of Tampa, wrote about her recent experience working in the Garden's William and Lynda Steere Herbarium on a project that is part of the effort to digitize the Steere Herbarium's 7.4 million preserved plant specimens. This post is from the iDigBio Web site, a national resource for information about digitized natural history collections. Our thanks to the Florida Museum of Natural History, where the Web site is based, for permission to repost Chelsea's story.