Posted in Interesting Plant Stories, Videos and Lectures on October 20, 2014 by Ina Vandebroek
Ina Vandebroek, Ph.D., is an ethnomedical research specialist at The New York Botanical Garden's Institute of Economic Botany. One of her research interests is studying how immigrant populations in New York City use traditional plant-based remedies in their health care.
---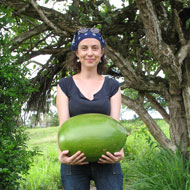 En Tu Comunidad is a public affairs program on the Spanish-language network Unimas that serves the New York City metropolitan area. The show is hosted by Enrique Teuteló.
Enrique invited me on the show to talk about my research in ethnomedicine—specifically, the use of medicinal plants in Latino and Caribbean communities in New York City, especially within the community from the Dominican Republic—and how this research can help physicians establish a better relationship with their Spanish-speaking patients.
Read on for a short English summary of our conversation, plus the full video of the interview in Spanish.