A Tropical Harbinger of Spring
Posted in Interesting Plant Stories on March 20, 2015 by Scott Mori
Michel Ribeiro is a Brazilian specialist in the Brazil nut family (Lecythidaceae) and a Ph.D. candidate studying for an advanced degree at the National School of Tropical Botany of the Rio de Janeiro Botanical Garden. Scott A. Mori, Ph.D, is a Curator Emeritus associated with the Institute of Systematic Botany at The New York Botanical Garden. His research interests are the ecology, classification, and conservation of tropical rain forest trees.
---
On this first day of spring in the Northern Hemisphere, we wanted to share a photo that captures the beauty of a rain forest tree that comes into its own during early spring in the Southern Hemisphere.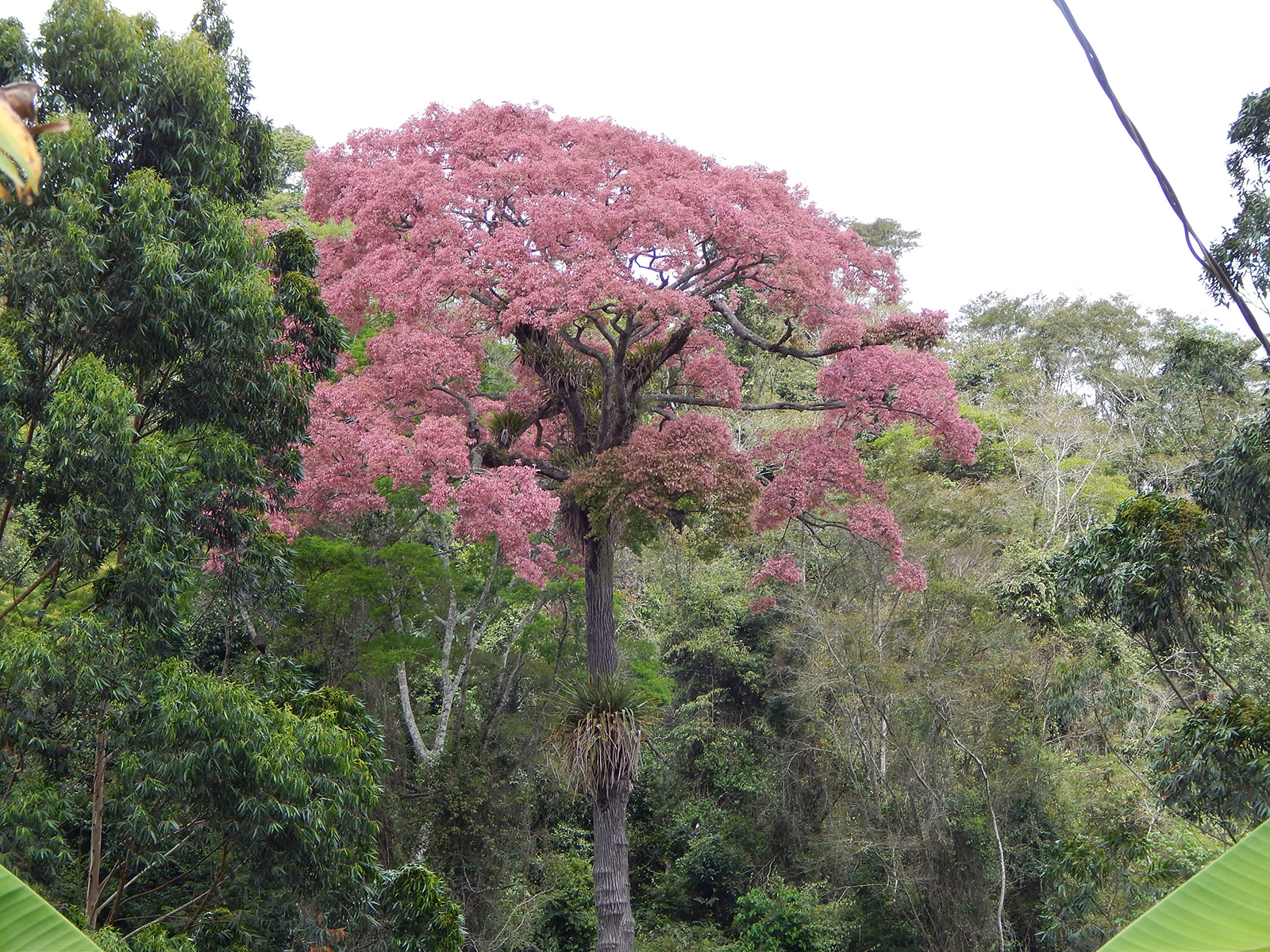 In a previous post, the second author described the life history of this magnificent tree, the sapucaia (Lecythis pisonis). Reaching 120 feet in height, it is pollinated by carpenter bees, and its seeds are dispersed by bats. The sapucaia drops it leaves in the Southern Hemisphere spring, remains leafless for 10 to 15 days, usually produces pink new leaves and flowers at the same time, and after flowering the leaves turn green.
During this time, the sapucaia tree is the most spectacular tree in the forests of eastern Brazil. The new leaves cover the tree, making it look as if its entire crown is full of flowers. Although purple flowers are present and beautiful, they are hidden by the pink leaves, which most likely play a significant role in attracting the pollinators. Bees visit most of the flowers to gather pollen, but, surprisingly, only two percent of the flowers yield fruits. We hypothesize that the reason for this is that the trees probably produce only enough carbohydrates for the flowers to develop into a limited number of its giant woody fruits, the size of a child's head, as well as the large seeds they contain.
For more information about the phenology—that is, the cycle of leafing, flowering, and fruiting—of species in the Brazil nut family, visit the Lecythidaceae Pages and type "phenology" into the search box.