Posted in Interesting Plant Stories on November 13, 2017 by Scott Mori
Scott A. Mori, Ph.D., is a Curator Emeritus at The New York Botanical Garden. He is a specialist in the Brazil nut family.
---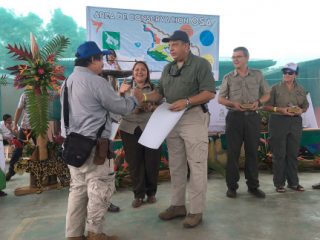 In August, renowned botanist Reinaldo Aguilar was honored for his ongoing inventory of the plants of the Osa Peninsula, which juts into the Pacific Ocean in southwestern Costa Rica near the Panama
border. In a ceremony at Corcovado National Park on the peninsula, Costa Rican President Luis Guillermo Solís presented Reinaldo with an award and pointed out how important botanical inventories are for selecting and managing biological preserves on the Osa, a region of high biodiversity.
Reinaldo began documenting plant diversity on the Osa in 1991 and continues to explore for new and interesting plants. Since 2008, Reinaldo has been collaborating with the William and Lynda Steere Herbarium of The New York Botanical Garden and is the lead author of the Vascular Plants of the Osa Peninsula.