Digitizing in the Dominican Republic
Posted in From the Field, Travelogue on April 23, 2015 by Stephen Gottschalk
Stephen Gottschalk, a former Project Coordinator for the William and Lynda Steere Herbarium, is now a graduate student in the Commodore Matthew Perry Graduate Studies Program at The New York Botanical Garden.

---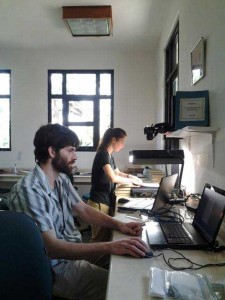 Though many botanists specialize in Caribbean flora, few have so thoroughly documented the plant life of a single island, especially a large one, as has Thomas Zanoni, Ph.D., who lived and worked in the Dominican Republic for 13 years. His collections number in the tens of thousands and come from nearly every corner of Hispaniola, which comprises the countries of Haiti and the Dominican Republic.
Last year, my colleagues Stella Sylva and Brandy Watts and I traveled to the Dominican Republic to work on a project at the Dr. Rafael M. Moscoso National Botanical Garden (Jardín Botánico Nacional Dr. Rafael M. Moscoso) in Santo Domingo. Our purpose was to image the field books of Dr. Zanoni.
Making a collection as large as Dr. Zanoni's digitally available to botanists across the globe is challenging. If one person were to work 40 hours a week typing out the information on each of his specimen labels, the job would likely take more than a year. Of course, that doesn't include the time it would take to first find each of Dr. Zanoni's 30,000-plus specimens, which are dispersed throughout not only our 7.4-million-specimen William and Lynda Steere Herbarium but also herbaria in other countries.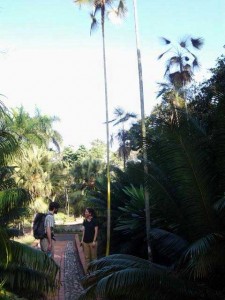 This brings us to the field book. Frequently, much of the specimen data will occur neatly, under one roof, in a few volumes of a botanist's field books. Such is the case with Dr. Zanoni's collection. The Jardín Botánico Nacional still maintains the entire record of Dr. Zanoni's nearly 13 years of collecting in Hispaniola in 12 volumes of field books. The staff graciously allowed us to photograph these volumes, thereby greatly expediting the rate at which we can make these collection data digitally available to researchers around the world. A job once measured in years can now be measured in a few months, if not weeks.
We now have digital images of each page and note in Dr. Zanoni's field books. Last summer we transcribed the information from each of the volumes, a total of more than 40,000 collection events. Each of Dr. Zanoni's specimens is now searchable by its taxonomy, geography, and date. Currently, we are linking the individual collection records to the physical herbarium specimens held by the Steere Herbarium. Our goal is for all of the transcribed data to be attached to an image of the specimen and its current identification. From there, researchers can find the data they need to carry out a variety of plant studies to answer questions about how plants are related to each other, how they spread across their range, how they function in a habitat, and how we can conserve them in the wild for future generations.
This slideshow requires JavaScript.