Google's Eric Schmidt & Sloan Foundation's Doron Weber on NYBG and World Flora Online
Posted in Events on May 19, 2015 by Stevenson Swanson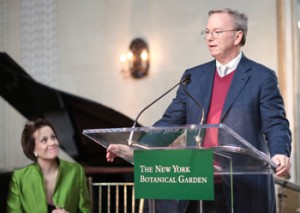 At the recent 34th annual Founders Corporate Dinner, The New York Botanical Garden saluted two generous funders—Google Inc. and the Alfred P. Sloan Foundation—for their support of NYBG's leading role in World Flora Online (WFO), a global project to create the definitive online scientific resource about plants.
NYBG Board member Sigourney Weaver presented the Garden's Founders Award to Eric Schmidt, Google's Executive Chairman, in appreciation of Google's major financial and technical support for the Garden's work on WFO.
In accepting the award, Schmidt said WFO would be "open, free, and available forever" and called it "a genuine sea change. All of us at Google love this partnership!"

WFO will provide comprehensive scientific information about an estimated 350,000 plant species, including their conservation status, making it easier to save the world's rare and threatened plants. "Given our commitment to bringing more information to more people, we are proud to support NYBG as they work to give us all more knowledge about the plants we share the Earth with every day," Schmidt said.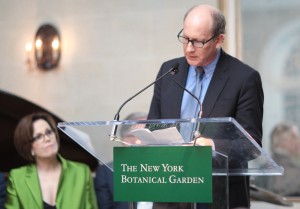 A grant from the Sloan Foundation is not only funding the Garden's work on WFO but will also be used to make WFO accessible through NYBG on the open-access Digital Public Library of America, a searchable portal of the full breadth of human knowledge and expression.
"We are huge fans of WFO and of NYBG's lead role in assembling the most complete and accurate scientific catalog of all plant life," said Doron Weber, Vice President at the Sloan Foundation, who called NYBG "one of the great jewels of this city. May 350,000 flower and plant species bloom on the lush, open-access cyber-pages of World Flora Online!"
Research by the Garden's scientists, both in the field and on-site at NYBG's International Plant Science Center, is a major source of the WFO data, expected to be available to the public by 2020. The much-needed project is critical to biodiversity scientists, science educators, government policy makers, conservationists, and the world at large.