Honoring a Musical Legend of the Southern Appalachians
Posted in New Plant Discoveries on May 27, 2015 by Science Talk
Jessica L. Allen is a graduate student in the Commodore Mathew Perry Graduate Studies Program, and James C. Lendemer, Ph.D., is an Assistant Curator at the Institute of Systematic Botany, both at The New York Botanical Garden. Lichens are their primary research interest.
---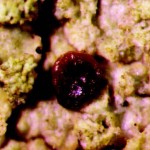 Atop Hangover Mountain in the Unicoi Mountains along the North Carolina-Tennessee border, we recently discovered a population of lichens that were in fruit and were excited to realize that they were a new species. Another native gem had been added to the flora of North America.
But what to name the new species?  As we contemplated that question, we sat down to eat our lunch and take in the sweeping views of the nearby Smokies.
When most people think of native plants and animals, images of familiar flowers and songbirds probably come to mind. But largely overlooked are the thousands of lichen species that make their homes in our own backyards. Lichens are fungi that have evolved unique relationships with algae for the purpose of obtaining nutrition.
Indeed fungi that have adopted this lifestyle play crucial roles in keeping our natural landscapes healthy. They also form spectacular growths on trees, rocks and soil from the highest mountains to the lowest and harshest deserts. Scientists at The New York Botanical Garden have discovered new species of lichens throughout eastern North America steadily over the last 50 years, with no end in sight.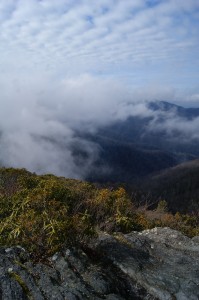 There had been many previous collections of this particular species when it was not fruiting, but documenting fruiting specimens was essential to confirm that this attractive and distinctive lichen was indeed new to science. When we found the fertile populations, we could determine what its closest relative is. Knowing where it fit in the tree of life allowed us to finally describe a species that was long known to exist. Essentially, it was like the final piece of evidence in a long mystery, which we were then able to solve.
As a crustose—that is, crust-like—lichen, this species adorns the branches of shrubs and small trees. Although it occurs throughout the Appalachians, it is most at home in the shrub and heath balds that dot the peaks of eastern Tennessee and western North Carolina. Each year, tens of thousands of visitors travel to the region to see these balds, which are dominated by flowing Rhododendron, as they erupt in a display of luxuriant red, purple and white flowers.
This slideshow requires JavaScript.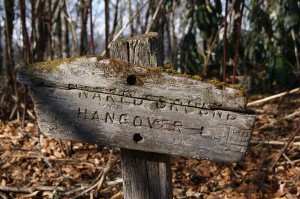 As we sat on that rocky summit, we could not help but think of the inspiring example of Dolly Parton. Ms. Parton grew up in a small cabin on the edge of the Smokies in Tennessee, rising from humble roots to stardom. Just as we have climbed the great peaks of the southern mountains to document new and endangered lichens, she has climbed to the top of music charts and met with success. During her lifelong journey, Ms. Parton has strived to bring attention to, and support, her native region.
With these thoughts in mind, we named the new species Japewiella dollypartoniana to honor Ms. Parton. Our paper describing the new Dolly Parton lichen is published in the most recent issue of Castanea, the journal of the Southern Appalachian Botanical Society. Naming a new species in honor of this renowned musician and philanthropist is the highest recognition that the botanical community can bestow and certainly seemed more than appropriate.