Tree of Heaven: An Immigrant Thriving in New York and Beyond
Posted in Interesting Plant Stories on August 13, 2015 by Scott Mori
Scott A. Mori, Ph.D, is a Curator Emeritus associated with the Institute of Systematic Botany at The New York Botanical Garden. His research interests are the ecology, classification, and conservation of tropical rain forest trees. He is also interested in the plants of Westchester County, where he lives.
---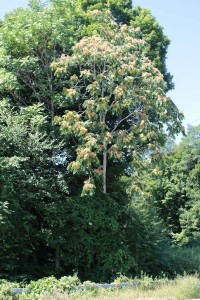 In 1986, R. S. Mitchell calculated that 1,081 of the 3,022 known species of flowering plants in New York State have been introduced from other parts of the world (A checklist of New York State Plants. New York State Museum and Science Service 458: 1-250). That means 36 percent of the plant species found in the Empire State are exotic, or not native.
One of these introductions is the tree of heaven (Ailanthus altissima of the mostly tropical plant family Simaroubaceae), which was introduced several times into the United States from China and Taiwan due to its ornamental and medicinal properties.
According to the United States Department of Agriculture Plants Database, the tree of heaven has been recorded in all but seven states in the contiguous United States. This species is particularly aggressive because it is able to become established in many different habitats; grow rapidly, which gives it the ability to produce seeds in a short time; be pollinated by many different insects, such as bees, beetles, and flies; grow in contaminated soils; produce stems from suckers; and generate winged fruits, which enable it to be efficiently dispersed by the wind.
This slideshow requires JavaScript.
The tree of heaven is easy to identify because of its long, pinnately compound leaves placed alternately on the stem and its flowers, with the ovaries divided into five separate parts, each of which can produce a winged fruit called a samara. The tree of heaven is especially conspicuous at this time of year because of the abundant fruits that are first yellow and then red at maturity.
This slideshow requires JavaScript.
Highways produce the sunny conditions that the tree of heaven thrives in, thereby providing a migration route that facilitates its movement from one area to other. As a consequence of its ability to produce abundant seeds, it easily moves from one locality to another, and once established, suckers allow it to produce additional stems. With time it will become more and more abundant along our highways and other open habitats.