Help Us Boost Botanists on Wikipedia!
Posted in Events on May 16, 2016 by Esther Jackson
Esther Jackson is the Public Services Librarian at NYBG's LuEsther T. Mertz Library where she manages Reference and Circulation services and oversees the Plant Information Office. She spends much of her time assisting researchers, providing instruction related to library resources, and collaborating with NYBG staff on various projects related to Garden initiatives and events.
---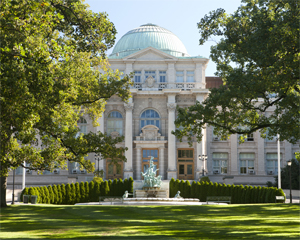 On Wednesday, June 15, 2016, from 1 p.m. to 6 p.m., the LuEsther T. Mertz Library will be hosting a Wikipedia Edit-A-Thon focused on creating and sprucing up pages for botanists who have made significant collections in New York State.
Editors are welcome to use the vast historic collections of the Mertz Library to create and edit pages. For those who aren't familiar with Wikipedia's editing process, we'll be offering training to help you get started, and editors of all skill levels are welcome to join in.*
Index Herbariorum and KE EMu, the herbarium collections database at NYBG, were used as starting points to build a list of New York State's most notable plant collectors. This field has been male-dominated, historically, so we're making every effort to promote better representation of female botanists. Help us share their contributions with the world!
All you need to do to attend is R.S.V.P. here.
You can view this event on Wikipedia and add yourself to the event page here.
*Attendees must bring a laptop to this event. Please note that training for new editors will be offered during the first hour of this event. New editors should plan on attending this training. Experienced editors are welcome to arrive at any point during this event's duration.